With the Iowa caucus a mere ten and a half months away (mark your calendars, January 18, 2016) and announcement season just ahead, we take our first look at the GOP field in the race for the Presidency. It is a huge field and at this juncture, no candidate has formally announced, and only two – as it happens, the two who headed the ticket in 2012, Mitt Romney and Paul Ryan – have declared themselves "out."
Their departure has narrowed the field to 21 contenders. Perhaps you know of more -- feel free to let me know. (And no, I am counting neither Donald Trump nor Sarah Palin.) The only way to handle such a field is to lump them into categories and go from there. And then, fasten your seats belts as we follow the candidates throughout 2015 and early 2016, as they lurch from far right to right and back again, until one lucky one takes the crown and pulls out the Etch-a-Sketch (to recall an unforgettable and all-too-true 2012 image created by Romney aide Erick Fehrnstrom) and tacks abruptly to the middle for the general election.
Under each grouping I will give a thumbnail assessment of each candidate's strengths and weaknesses as a contender, as well as a completely unscientific view of the odds of their becoming the GOP 2016 nominee.
Announcements will be coming soon enough; I would imagine they would all be in by June. And certainly some of those listed below will opt out, having assessed dismal results in the "silent primary" now underway.
For readers who cannot wait to see where the polls currently stand (national, Iowa, and national all contenders versus Hillary Clinton), scroll on down to the bottom.
There are really only two members of the field that the traditional GOP money wants to see win; they are the only GOP candidates with moderate enough stances to stand a chance in the general election. And in reality, most establishment GOP types would be very happy to crown the first name as soon as possible and forget the second.
·
Jeb Bush (40%). Bush is, of course, the former Governor of Florida and member of the GOP's leading dynastic family. Bush has much going for him, starting with huge name recognition, an established fundraising network (built on the strength of 41's massive Christmas card list), policy chops, a decent governing record in Florida and a Hispanic wife who could help the GOP reach that crucial demographic that it otherwise insults almost every day. But his weaknesses are readily apparent. His relatively moderate stances on immigration and education are anathema to the hard right that controls the primary process. His name alone will hurt him, from both a "Bush fatigue" standpoint as well as guilt-by-association with his brother. He is an indifferent backslapper, a notoriously dull speaker, and appears to lack that fire-in-the-belly quality so necessary to sustain a 600-day campaign. He has not yet been to Iowa, his business record has Romney-like issues but without the fabulous personal wealth, he hasn't held office in 8 years, hasn't run for office in 12, and his wife hates politics. Shall I go on?
·
Chris Christie (5%). We have not even started yet and already Chris Christie is the silent primary's first major casualty. It is too early to write him off, but the Governor of New Jersey has already had more swings than Jack Nicklaus in his remarkable career. A brief encapsulation of the major ups and downs is instructive, and all of it has happened since Jeb Bush last held office. He came out of nowhere to beat John Corzine to become Governor of New Jersey in 2010, smacked down (sort of) the teacher's union to become a darling of the right; perhaps missed his moment by declining to run in 2012; blew a chance at Obama-like fame by spending most of his keynote speaker's spot by talking about himself rather than Romney, failing to mention the nominee's name until Minute 16; further alienated his party by his utter embrace of Obama on the eve of the 2012 election in the aftermath of Hurricane Sandy; got clobbered by BridgeGate and the ensuing deep dive into his Nixon-esque manner of running his state; clawed back as head of the Governor's Association to score big points in the 2014 landslide; only to backslide again in his early days of the "silent primary," that is, right now, as he fails to impress the hard right -- right when he needs to the most. Whew!
They got their feet wet, and in some cases, their faces reddened, in the 2008 and 2012 campaigns, and are back for more.
·
Mike Huckabee (5%). Many people think that Mitt Romney was "next in line" after the 2008 campaign (which was won by John McCain) but in truth Mike Huckabee won the second most delegates. He sat out 2012, content to rake in the fees on the circuit and a cushy stint on Fox, but he surprised many by resigning the latter and making noise about 2016. Huckabee has a folksy way about him that makes him appear to be less threatening than the other true right-wingers in the field (that is, virtually everyone else in the field except Bush, Christie and perhaps Lindsey Graham, unless you count George Pataki.) He could do well in Iowa, but does not have a fundraising network at all, and feels a bit like old news amid the vast array of newcomers he is fighting on the right. ·
Rick Santorum (0%). Santorum, the former Senator from Pennsylvania, actually is the "next in line" from 2012, having been the last person standing to challenge Mitt Romney among the embarrassing set of far right candidates with whom Mitt jousted that year. He followed Michelle Bachmann, Donald Trump, Herman Cain and Newt Gingrich to the top of the polls just in time for Iowa, where he squeaked out an 8-vote win. He parlayed that into just enough strength to hang around to win the second most delegates (hence "next in line'). But if he could not win in 2012, he has zero chance in 2016, when he faces much more capable competition in his hard-right wheelhouse.
·
Rick Perry (8%). Perry has just finished his long run as the Governor of Texas (how long? He succeeded W in 2001), and has forgotten enough about 2012 that he considers himself viable. But forgetting is his specialty, right? Who can forget his brain-lock on the Department of Commerce in 2011? No one. But…believe it or not, he may have a chance to duke it out with Jeb Bush. He is telegenic, he's hardcore right wing (despite one "oops" on immigration, his tuition policy for undocumented students), he's still a "good lookin' rascal" (as Bill Clinton famously gushed) and money will be no problem. And everyone loves a comeback story, right?
NATIONAL NAMES, FIRST TIME OUT
Here is where it gets interesting. Can any of these new faces (sort of) get themselves to the top of the heap? All are national figures, relatively young, strong on policy, reasonably articulate – and crazy right wingers. The Democrats dream of one of them shoving Jeb Bush aside.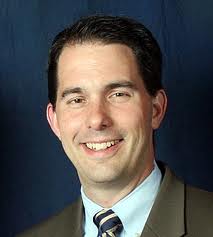 ·
Scott Walker (15%). The Wisconsin Governor made his name by taming the Wisconsin unions, surviving a recall election and winning a tight re-election in 2014. He is thus far the flat out winner of the "silent primary," knocking the socks off the Iowa GOP in the early days of this campaign and zooming to the top of the polls – yes, ahead of Jeb Bush. But you can tell he's a rookie – he has stumbled all over the backlash of Rudy Giuliani's comments about Obama ("I do not believe that the president loves America") and compared dealing with protesters to dealing with terrorists. Plus he rivals Jeb Bush in the charisma department, and does not have a college degree, and who knows how voters really feel about that. We'll see how he fares in prime time, but for now he is riding high.
·
Rand Paul (8%). No one has tougher needles to thread than the Kentucky Senator and son of the leading libertarian of his time, Ron Paul. Rand Paul has to convince the hard right that he is tough as nails on defense (and not an isolationist like his father), and that he is one of them despite modest overtures to Hispanics. The early returns are not encouraging – he failed to impress the big hard right money in a recent confab, and the blue jeans did not help. He has process issues to wade through as well – under Kentucky law he cannot run for both Senator (he is up for re-election in 2016) and President. He will attack this restriction, perhaps suing his own state, or trying to get it to turn the presidential contest into a caucus. But if he manages to scrape through it all, he could do well in both Iowa as well as famously libertarian New Hampshire, and thus emerge from the two as a top tier contender. (He's another candidate without a college degree, though he did manage to get a medical degree from Duke.)
·
Marco Rubio (8%). The Senator from Florida has a bit of 'splaining to do over his immigration policies – he led Senate passage of reform legislation that the House failed to even consider, a huge black mark to the far right. And he also would have trouble taking his own state against fellow Floridian Jeb Bush. On the other hand, he has much going for him, as telegenic as Rick Perry and a policy wonk worthy of Bush himself.
·
Ted Cruz (5%). The Senator from Texas is the biggest personality in the room, and I would love to see a Bush-Cruz one-on-one debate. He is unabashedly hard right and has carved out a leadership position among the shutdown crazies who see him as the One. Cruz is hardly cuddly but he can sure fire up a crowd, and one could easily see him making the victory speech in Iowa.
·
Bobby Jindal (0%). The Governor of Louisiana has never rebounded from his disastrous State of the Union Republican response in 2009, widely derided by members of both parties, He's still only 44 but feels like a has-been (or a never-was) and it is hard to imagine him beating this field.
This set of standing Governors have little name recognition and might use a run this time to get some impetus for a 2020 run.
·
John Kasich of Ohio tried once, forming an exploratory committee in 1999. The silent primary went so poorly that he dropped out before the Iowa Straw Poll – not the caucus, the Straw Poll.
·
Rick Snyder of Michigan is a businessman who was briefly considered to be Mitt Romney's running mate. You would have to ask why, since his resume, full of CEO-ships and venture capital stints, would not seem to complement Romney's own resume.
·
Mike Pence of Indiana is kind of a poor man's Mitch Daniels, a predecessor of his as Governor. Daniels built a strong track record as Governor, leaving Pence little room to maneuver within the traditional GOP ouevre of tax cuts and economic stimulus. Daniels chose not to run for President despite his credentials because of a messy family circumstance (in a nutshell, he has married the same woman twice).
·
Rick Scott of Florida, another businessman, has had a tumultuous run, rejecting federal funds for high-speed rail, forcing welfare recipients to undergo drug testing and, most recently, refusing to take the stage for seven long minutes in a debate with challenger Charlie Crist in his re-election campaign because Crist had a small fan in his podium to prevent sweating. He was ridiculed, but managed to beat Crist nonetheless.
That is a kind heading. Suffice to say, none of these people will ever be President of the United States.
·
Ben Carson is the most compelling name on this list. He is currently polling in double digits, just behind Scott Walker and Jeb Bush. Never heard of him? He is an African-American neurosurgeon, and his initial claim to fame is that he was the first surgeon to successfully separate conjoined twins joined at the head. He was invited to be the keynote speaker at the 2013 National Prayer Breakfast and created a feeding frenzy among the FOX crowd with an electrifying conservative rant, delivered with President Obama sitting just yards away. Thus in today's world a candidate was born. He will generate his share of headlines in 2015 but I cannot see him taking off.
·
Carly Fiorina is the former CEO of Hewlett-Packard and and the GOP nominee for the Senate in California in 2010. Neither worked out well. She was fired from H-P and lost the Senate race to incumbent Barbara Boxer 52% to 42%.
·
Representative Peter King from New York achieved some modest level of notoriety when he chaired the House Committee on Homeland Security.
·
Former Governor George Pataki of New York has been out of office even longer than Jeb Bush. There was a time when I might have taken a Pataki candidacy seriously, but, unlike Bush, he has not spent his intervening years in any high profile manner, nor does he have a brother or father who was once President.
·
Former U.S. Ambassador John Bolton was a controversy a minute in his brief stint at the U.N. under George W. Bush, beginning with his recess appointment in 2005 (he resigned a year later). A classic neocon in the Wolfowitz school of diplomacy (ask for neither permission nor forgiveness), he has no chance whatsoever of gaining any traction against this field.
·
Former Governor Bob Erlach of Maryland barely makes even this list. Another little known ex-Governor who last served in 2007.
·
Former Governor Jim Gilmore of Virginia also barely makes the list. He last served in the last century…not really, but in 2002.
The polls continue to show a tight race, though Scott Walker is enjoying his early boomlet and Chris Christie continues to drop like a stone. Walker's national lead over Bush is, not surprisingly, accentuated in Iowa. None of the GOP field approaches Hillary Clinton head-to-head at this juncture; what is surprising about this chart is that neither Jeb Bush nor Chris Christie do any better than their more conservative rivals. The normal pattern is for the more moderate candidates to do better in head-to-head polls with the Dems. This result should be disconcerting for Bush.
| | | | | | | | | | | | |
| --- | --- | --- | --- | --- | --- | --- | --- | --- | --- | --- | --- |
| | | | | | | | | | | | |
| | | | | | | | | | | | |
| | | | | | | | | | | | |
| | | | | | | | | | | | |
| | | | | | | | | | | | |
| | | | | | | | | | | | |
| | | | | | | | | | | | |
| | | | | | | | | | | | |
| | | | | | | | | | | | |
| | | | | | | | | | | | |
| | | | | | | | | | | | |
| | | | | | | | | | | | |
| | | | | | | | | | | | |
| | | | | | | | | | | | |
| | | | | | | | | | | | |
| | | | | | | | | | | | |
| | | | | | | | | | | | |
| | | | | | | | | | | | |