In the endless hyping of the various primary contests, it is easy to lose track of which dates truly merit the designation "Super." March 15, to be clear, is truly "Super." Not only are many delegates at stake -- 691 for the Democrats and 367 (15%) for the GOP, about 15% for each party – but the outcomes are consequential. On the Democratic side, Hillary Clinton could use a good night to wipe away the bad taste of losing Michigan (though the math pointing to her nomination remains formidable). For the GOP, if there remains any chance of denying Donald Trump the nomination, somehow, he must lose, somewhere, on March 15. And even if he does lose somewhere, it is hard to find compelling math that will result in a brokered convention.
Bernie Sanders won a big race in Michigan last week, which was important mainly because it was so unexpected. Michigan was a primary with plenty of polls, and all of them showed a big Clinton win. But in terms of delegates, the close Michigan win for Sanders was more than offset by the huge Clinton win in Mississippi and thus resulted in a net negative day for Bernie in the count, with the ominous delegate gap between the two widening even more.
I see more of the same tomorrow.
Clinton has huge polling leads in both Florida and North Carolina, roughly 25-30 points. A Michigan-esque upset is very unlikely in either, given Clinton's huge demographic advantage in the South. She leads in Ohio but there is evidence that that race is tightening – with some polls as close as 5 points. Illinois is about a dead heat, and there has been only one poll in Missouri, with Clinton at +7.
Let's say Clinton wins both Florida and North Carolina by healthy margins, but Sanders pulls out 10-point wins in the other three (which I am not forecasting). That would be a great day for Bernie, right? Well…Hillary would take home about 50 more delegates than Bernie, and the gap would rise to 270, and that excludes superdelegates. For Bernie to make this a serious race, he need not just to win, but win consistently and win big each time. He would have to win all of the remaining races by a 57/43 margin, and that is simply not happening.
Our forecast for March 15 is, in fact, not nearly as generous to Bernie. BTRTN predicts that Hillary Clinton will win Florida and North Carolina easily and will squeak out wins in Ohio and Missouri, while losing a tight one in Illinois. This outcome would net her 95 more delegates than Bernie and push her delegate lead overall to over 300, pre-superdelegates (which of course she dominates).
This has long been billed as the last stands for both Marco Rubio and John Kasich, in their home states of Florida and Ohio, respectively. And thus this is Ground Zero for the GOP establishment plan to thwart Donald Trump in the primary season and force a brokered convention in July. The GOP moves to mostly "winner-take-all" delegate allocation with these March 15 races, therefore Trump victories give him huge chunks of delegates on the path to the 1,237 he needs to secure the nomination.
Trump is way ahead in the polls in the many Florida polls, roughly two-to-one over a rising Cruz and a fading Rubio. On the other hand, Kasich appears to have a slight lead in Ohio. Trump leads in Illinois, though Cruz is making a contest of it, while Trump holds a solid lead in North Carolina. Again, there is one poll in Missouri, and Trump is up in that one by 7 points. (There is no information on the Northern Marianas.)
Let's get to our predictions and then discuss what might happen next. BTRTN predicts that Donald Trump will win Florida, Illinois, North Carolina and the Northern Marianas, while John Kasich will take Ohio and Ted Cruz will eke out a win in Missouri.
This would be quite a delegate haul for Trump, about 200, and would extend his lead over Cruz to about 220.
With the Florida loss, Rubio will almost certainly drop out, although the under the "deny Trump/brokered convention strategy" the GOP establishment might beg him to stay in. Any delegate Rubio takes from Trump would be a plus. But I find it highly unlikely that Rubio, who has a future in GOP presidential politics, would allow himself to be humiliated week after week simply to advance a very long shot strategy for the party.
Kasich will stay in, frustrating Cruz, who has been eager to take on Trump one-on-one down the stretch.
And thus we will have a three-man race. And despite all the talk of denying Trump the necessary delegates to win the nomination outright in the primary season, I cannot see it happening. Here's why.
Thus far, Trump has been vulnerable only in: 1) states that have home state or neighbor strength for an opponent (Kasich in Ohio, Cruz in Texas and Oklahoma), and 2) caucuses. Up to now, Trump has won only 5 of 14 races that fit in one of those categories, or 36%. But he has dominated primaries in states with no regional favorite son, winning 10 of 12, or 83%, and the only two he lost were tiny Puerto Rico (to Rubio) and tinier Idaho (to Cruz).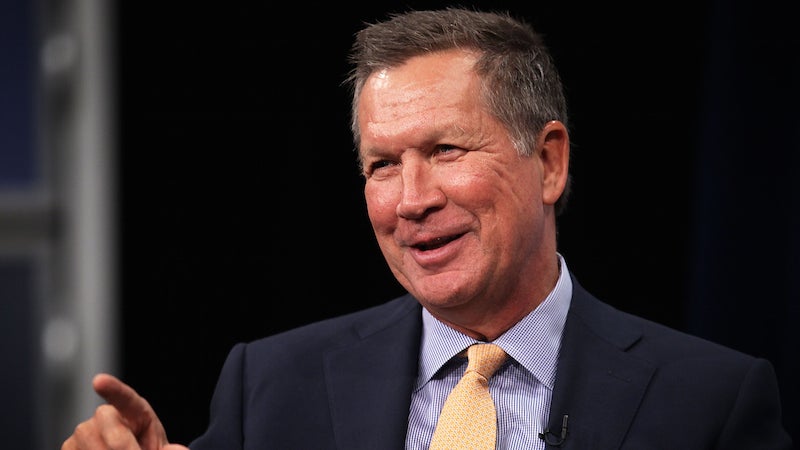 And most of the remaining contests – 17 out of 23 – are primaries with no regional favorite. And many are in the Northeast, including New York, where Trump may have a regional advantage. (He leads in whatever polling has been done in many of these states.)
Kasich may have some strength in states like Pennsylvania or Indiana if he wins Ohio, but it is hard to imagine he and Cruz gaining enough momentum (even with a healthy chunk of Rubio supporters) to win many of those 17 states outright. In fact, it is very unlikely. If Trump does indeed win Florida, Illinois and North Carolina tomorrow, he will emerge from this Super Tuesday stronger than ever.