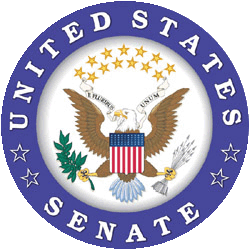 The presidential campaign has descended upon my home state of New York, which means, we get to experience, for a few weeks, what Iowans endure for a year, the inescapable drumbeat of desperate campaigns. Since we are now overwhelmed by 30-second spots, perhaps we can turn our attention elsewhere for a spell. How about a look at the Senate?
But just a very brief New York polling update, with less than a week to go before the enormously consequential April 19 primary: Donald Trump and Hillary Clinton continue to hold sizable margins in the polls. In an average of the most recent five polls within the last week, Trump leads Ted Cruz and John Kasich by a range of 25 to 43 percentage points, while Clinton is ahead of Bernie Sanders by 10 to 14 points.
The Senate is most definitely "in play," meaning there is a decent chance the Democrats can reverse the 2014 outcome and take back majority control. The headline of this snapshot, based on very early polling, is the race for control of the Senate is, in itself, a toss-up. We have it at 50/50 as of this minute, with the Democrats picking up four seats, which means Senate control would rest with the party who wins the presidential race, with some yet-to-be-named-Vice-President wielding the gavel to break ties.








Let's review the basics. Of the 100 Senate seats, only 34 are up for re-election this year. As the chart to the right shows, the Dems have 36 holdover seats, and also a solid lock on eight contests, including the likes of Chuck Schumer in New York and Pat Leahy of Vermont. That means 44 Dem seats are in the bag. The GOP has only 30 seats not up for reelection, but they have a lock on 16 of the races, including, for example, John Hoeven of North Dakota, who won by 54 points back in 2010, and others who are similarly immovable. So the GOP can count on 46 seats.
That, of course, leaves 10 seats up for grabs, the so-called "battleground states," races with single-digit margins in early polling (where such polling exists). As we see it at this very early juncture – when most of these states have not as yet even run primaries to determine the tickets – the Dems seem to have the edge in six of those states, and 44 + 6 = 50. The GOP has the edge in four states, and 46 + 4 = 50. Thus the 50/50.
At this stage of the game, this outlook basically ignores the potential impact of the "top of the ticket," so you can well imagine the situation looking even worse for the GOP on the assumption that either Trump or Cruz secure the nomination. Specifically, a disaster at the top could spell trouble for those four battleground states that the GOP currently leads.
There are two states that the Dems currently hold and have to defend:
·
Colorado:
Michael Bennet is the very vulnerable incumbent Democratic Senator, having barely won in 2010 (by one point) and having a target on him ever since. There are 10 GOP aspirants lined up for the June 28 primary, and in the only polling Bennet leads one of them by eight points and trails another by three. BTRTN rating: DEM Toss-up.
·
Nevada
: Democratic Minority Leader Harry Reid is retiring, and the GOP wants his seat. They fumbled away a chance to unseat him six years ago when they nominated a Tea Party favorite, Sharron Angle, and she threw it away, losing by five points. At this point four Dems and eight Republicans (including Angle) have signed up for the June 14 primary, and there are no polls whatsoever (the only battleground state with zero polling thus far). BTRTN rating: DEM Toss-up.
Then there are four states that the GOP has an edge in defending:
·
New Hampshire:
Kelly Ayotte is a first-term Republican who is facing a serious challenge from former Democratic Governor Maggie Hassan. But thus far Hassan trails by about five points in the polls, and is now embroiled in a bit of a scandal involving her husband, and how he, the ex-principal of Exeter, handled a sexual misconduct issue involving a faculty member. BTRTN rating: GOP Toss-up.
·
Pennsylvania:
Another GOP first-termer, Pat Toomey, won by two points over Joe Sestek in 2010. Sestek is back and currently leads the other major challenger, Katie McGinty, by 10 points in primary polling; the primary is on April 26 (the same day, of course, as Pennsylvania's presidential primary). At this stage, Toomey leads Sestek in head-to-head polling by a solid seven points. BTRTN rating: GOP Lean.
·
Missouri:
Yet another first-termer, GOP Senator Roy Blunt, is in reasonably good shape in his reelection bid, with a six-point polling lead over potential Democratic challenger (the primary is on August 2) Jason Kander, the secretary of state. BTRTN rating: GOP Lean
·
North Carolina:
Richard Burr is a second-term GOP Senator who won reelection handily in 2010, by 12 points. And he has a solid lead over Deborah Ross, the former Democratic state house majority whip, +9 at this juncture. North Carolina will be a hard one to turn. BTRTN rating: GOP Lean
And then the four that, as of now, the Dems are best positioned to pick off:
·
Illinois:
GOP Senator Mark Kirk is a second-termer who barely won reelection in 2010, winning by two points. He will face popular Democratic representative Tammy Duckworth, an Iraq War veteran who lost both her legs in combat. Duckworth handily won the primary last month and leads Kirk in current polling by 6 points. Kirk was one of the first GOP Senators to agree to meet with Merritt Garland, President Obama's nominee for the Supreme Court. BTRTN rating: DEM Lean
·
Wisconsin:
Another prime Dem takeover race will likely feature a re-match between first-term GOP Senator Ron Johnson and the man he defeated, former Democratic Senator Russ Feingold. Johnson won by five points in the Tea Party year of 2010, but in a year with a presidential election the turnout dynamics will work against him, especially with top-of-the-ticket issues. Feingold is up by four points in early polling. BTRTN rating: DEM toss-up.
·
Ohio:
GOP Senator Rob Portman won by 18 points when he was first elected in 2010, and was once on Mitt Romney's short list of VP aspirants. But the going has gotten tougher for Portman, and he is in a tough battle with former Democratic Governor Ted Strickland, who easily won the March 15 primary. Strickland is up by +2 over Portman in early polling. BTRTN rating: DEM toss-up.
·
Florida:
Remember Marco Rubio? He had to give up his Senate seat in order to run for president, and the race is on to replace him. Rubio won a three-way race in 2010, in which former GOP Governor Charlie Crist ran as an independent. Crist (who has since become a Democrat), and the Democrat candidate, Kendrick Meek, actually received slightly more votes than Rubio, 49/48. The Florida primary is not until August 30, and the leading contenders are Democratic Representatives Patrick Murphy and Alan Grayson, and Republican Representative Ron DeSantis. In early polling both Democrats have material leads over DeSantis, Murphy +6 and Grayson +3. BTRTN rating: DEM toss-up.
Murphy is clearly the establishment choice over Grayson, who has had offshore hedge fund issues as well as campaign staff turnover problems. Murphy is an appealing candidate, as evidenced by this report from one of our readers, Andrea M., on a fundraising dinner she attended recently in Florida on his behalf:
The Florida Democratic Party held a dinner event for Senate hopeful Patrick Murphy…over 300 people attended the dinner in Lakewood Ranch in Manatee County, Florida. Murphy is a young dynamic speaker and promotes the Democratic values supporting the middle class, climate control, national security, women, minorities and education. This high profile and high energy event attracted many elective Democrats and those running for office, including Mayor Bob Buckhorn and former Governor Charlie Crist.​
There is, quite obviously, a very long way to go. We have primaries ahead in most states, full campaigns, and the overhang of the still-in-flux presidential race. This chart summarizes the state of play in the ten battleground states, as of this minute. We shall return to this time and again over the next seven months.






SENATE BATTLEGROUND STATES







* Rubio won over two candidates, one Dem and one Ind (former Gov. Charlie Crist), 49/30/20