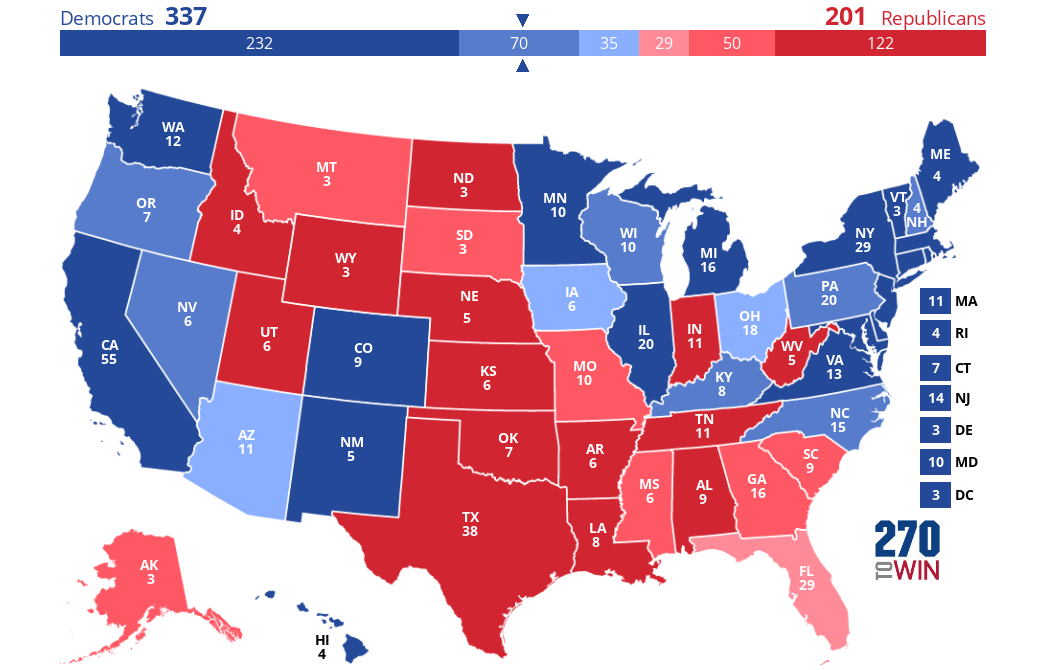 What a year! The two most unpopular candidates of all time, Hillary Clinton and Donald Trump, will be placed into nomination – and presumably ratified, but who knows – in the coming weeks as the standard bearers of their respective parties. Headliners on the national scene for decades, both have traced decidedly unconventional paths to their conventions, and arrive at them carrying the load of their own almost-lowest-ever favorability levels, which is saying something. The most recent poll, by CBS/New York Times, has Clinton's favorability rating at 28%, and Trump's at 30%. It's hard to conceive.
This must have enormous implications for the electoral vote, right?
We at BTRTN have completed our first 50-state rack-up of the Electoral Vote – not a projection or a prediction, just a snapshot of where we are – and the dashboard looks eerily similar to 2012. At this juncture, we find that a whopping four states out of the 50 – four! – are currently in the opposite column from that of the 2012 election. Can it really be the same old song?
A little primer to begin: those national polls, you know, the ones that show Trump and Clinton about even now? Forget about them. Ignore them. They don't matter. This election is won state-by-state in the Electoral College, so the only thing to pay attention to are individual state polls. And since we have already indicated that this is lining up to be a typical election day (if an atypical campaign), you should only pay attention to swing state polling. There are 40 states that have voted, in the last four presidential campaigns, from 2000 to 2012, either all blue or all red. That leaves 10 states that have swung both ways in that time: Colorado, New Mexico, Indiana, Iowa, Nevada, New Hampshire, North Carolina, Virginia and the two biggest of them all, Ohio and Florida. Those 10 states account for 116 electoral votes this year, only 22% of the magic 538.
Those ten states are the classically defined "swing states" – since they have actually swung – but a few more states might be in play this year as well. Early polling shows that both Clinton and Trump are only modestly ahead in states that have gone for their predecessor nominee in four straight elections, and Clinton is actually ahead in a few of those states that have only gone for the GOP in this century. More on that below. The point is, however narrowly you define the swing states, they are the ones to watch.
On to the numbers….here is the snapshot of the Electoral College at this time:
Hillary Clinton is ahead in a rather convincing manner at this point, 337 to 201, though hardly the landslide that some envisioned (you need 270 to win, of course). Her electoral vote count, by our calculations, is, in fact, nearly identical to that of Barack Obama's in 2012, when he won by 332 to 206 over Mitt Romney.
You may have seen headlines in the past few days that indicate certain swing state races are tightening or have flipped, presumably in the wake of the FBI email report fall-out. This is true in part -- in the last week, she has weakened in Wisconsin, Iowa, Florida and Ohio. But she has also strengthened in Virginia, Pennsylvania, North Carolina and Colorado, and the net is about a wash.
But I will underline my main point, and then get into the nitty-gritty of the state-by-state: this has been an unprecedented campaign, by any stretch, with the boorish Donald Trump launching into elective politics with the subtlety of a meteor, and Hillary Clinton – the first woman to head a major party ticket -- fending off an unexpectedly strong challenge from Bernie Sanders on the one hand, and the overhang of a never-ending (it seemed) FBI investigation that could very well have led to an indictment, on the other. But with all of that, this race is closely hewing to the standard 21st century model, and will likely come down to those same 10 swing states yet again (and perhaps a few more), with Clinton likely prevailing.
The big 50-state-chart is below, and here are a few comments before you dive into it if you wish.
·
You can see by column (i) that there has not been a great deal of polling in any state, and in many states – typically non-swing-states – there has been no polling at all. Polling is just starting to heat up. You can also see that in some states, while there has been polling, it may be quite stale – say, the last poll was done in May. So…caveats galore.
·
Clinton is actually leading -- by a narrow margin – in Kentucky and Arizona, two states that have gone for the GOP in each of the four elections from 2000 to 2012.
·
But she is only "leaning" in three states that have gone blue in those same four elections: Oregon, Pennsylvania and Wisconsin. And she is up by single-digits in states like Connecticut, Michigan, Maine and New Mexico that Obama won twice by double-digits.
·
Trump, on the other hand, can hardly count on the "red wall" – of the 20 states that have gone red by double digits, on average, in the past four elections, he is ahead in seven of them by only a single-digit margin. (This includes Utah, which was Mitt Romney country, and Romney's antipathy to Trump is coming through…Trump is only +7 in a state Romney won by +48.) And there has not been polling in half of other of those 20 states, meaning he has a measured double-digit lead in only three states: Louisiana, Arkansas and West Virginia.
I expect that Clinton's "convention bounce" will exceed that of Trump's, and that will extend her lead in the swing states. Clinton will benefit from night-after-night of glowing hosannas from a glittering set of gifted speakers: Bill Clinton, Elizabeth Warren, Bernie Sanders, Joe Biden and, of course, Barack Obama. Trump's convention, with lesser lights (Ted Cruz, Chris Christie, Scott Walker, Newt Gingrich) offering, by contrast, rather tepid homages to Trump, will likely not help him much, particularly if demonstrators and crazies overshadow the proceedings. But we shall see.
*******************************
To explain the chart itself, columns (C) through (F) note the margin between the Democratic candidate and GOP candidate in each of the last four elections. Looking at the first line, this means that in 2012, Obama beat Romney by 84 margin points (the actual vote in DC was 91% for Obama to 7% for Romney – a difference of 84 points. Column (G) gives the average margin of those four years). Column (H) gives the average of the most recent polls, and column (I) shows in what month those polls occurred and how many in that month. Column (J) gives our rating for the state, whether it is solid, leaning or a tossup, blue or red. We try to avoid "too close to call." These ratings add up to the numbers at the top of this article.
We will revisit these charts many times in the next 115 days…enjoy your first look.
| | | | | | | | | | |
| --- | --- | --- | --- | --- | --- | --- | --- | --- | --- |
| | | | | | | | | | |
| Democrat Minus Republican | | | | | | | Latest 2016 Polls as of 7/14 | | |
| | | | | | | | | | |
| | | | | | | | | | |
| | | | | | | | | | |
| | | | | | | | | | |
| | | | | | | | | | |
| | | | | | | | | | |
| | | | | | | | | | |
| | | | | | | | | | |
| | | | | | | | | | |
| | | | | | | | | | |
| | | | | | | | | | |
| | | | | | | | | | |
| | | | | | | | | | |
| | | | | | | | | | |
| | | | | | | | | | |
| | | | | | | | | | |
| | | | | | | | | | |
| | | | | | | | | | |
| | | | | | | | | | |
| | | | | | | | | | |
| | | | | | | | | | |
| | | | | | | | | | |
| | | | | | | | | | |
| | | | | | | | | | |
| | | | | | | | | | |
| | | | | | | | | | |
| | | | | | | | | | |
| | | | | | | | | | |
| | | | | | | | | | |
| | | | | | | | | | |
| | | | | | | | | | |
| | | | | | | | | | |
| | | | | | | | | | |
| | | | | | | | | | |
| | | | | | | | | | |
| | | | | | | | | | |
| | | | | | | | | | |
| | | | | | | | | | |
| | | | | | | | | | |
| | | | | | | | | | |
| | | | | | | | | | |
| | | | | | | | | | |
| | | | | | | | | | |
| | | | | | | | | | |
| | | | | | | | | | |
| | | | | | | | | | |
| | | | | | | | | | |
| | | | | | | | | | |
| | | | | | | | | | |
| | | | | | | | | | |
| | | | | | | | | | |