Tom with the BTRTN monthly update, covering another dismal month in the Trump presidency.
October began with a tragedy of an unfathomable dimension, the murder of 58 innocent people at the hands of a deranged gunman in Las Vegas, and ended with another, the terrorist attack on the West Side of Manhattan that killed eight more. We live in a world where weapons of mass destruction are readily available to those who choose to inflict them, to suit their own wretched purposes. Some of those contemplating the use of such weapons as we speak may be in a distant land, living in a nondescript apartment. Others may be the seemingly mild-mannered neighbors next door. And some of these unstable sorts are…heads of state.
For better or worse, our reaction to both tragedies is following the same numbing script. The standard calls for gun control measures after the Las Vegas attack (including a ban on "bump stocks') came and went, gone without a trace, with Congress dodging, so to speak, another bullet. And while the New York tragedy is fresh, we know our battle-tested city will carry on, unyielding in the face of terror. Law enforcement officials will contemplate how to prevent a seemingly unpreventable, low-tech tactic, the mowing down of pedestrians with large rented vehicles, and the shock will fade.
But another bombshell was dropped at the end of October, and this one will not vanish so easily. This, of course, was the announcement of the first charges from the Mueller investigation. The Mueller news featured the indictments of Trump Campaign Chair Paul Manafort and protégé Rick Gates, and the even more stunning guilty plea by Trump campaign foreign policy advisor George Papadopoulos that revealed something that looked mighty close to, well, collusion between the Trump campaign and the Russian government. Far from "wrapping up soon," as the White House continues to insist, Mueller's probe is clearly shifting into high gear. We'll come back to that.
In between all those seismic events, with their wildly varying aftershocks, the month was characterized by the usual hallmarks of Trumpworld: the fitful path of lurching legislation (tax reform), the court bans of executive actions (travel and transgender bans), the meaningless pronouncements (opioids), continued outright failure (Puerto Rico) and distracting, unwinnable and callous fights with victims (Puerto Ricans, Niger attack widow). What was new this month was, finally, a chorus of noted Republicans giving voice to the failings of this Administration, specifically the embarrassment of President Donald Trump.
George W. Bush, John McCain, Bob Corker and Jeff Flake all delivered speeches for the ages, each in its own way elegant and beautiful, each bluntly critical of Trump and the divisive and coarse politics that he practices and engenders. The only trouble with this distinguished quartet is that none of them have a political future, and thus they were easily dismissed by Trump and his base as establishment has-beens and losers. No leading Republican with a future on the line has been so blunt, and thus those words, however noble, had their 24 hours of viral-ity and then disappeared as quickly as the talk of bump stocks bans. Donald Trump's approval rating remains at 40%.
Trump's policy agenda suffered through its normal dysfunction. His latest travel ban – the one that was supposedly fully thought through -- was once again shot down by a Federal judge in Hawaii. His knee-jerk ban of transgenders in the military, foisted upon an unsuspecting (and un-consulted) Pentagon, was also struck down by another judge. Trump's efforts to damage Obamacare -- by refusing to make payments to insurers to cover discounts to the less fortunate -- only resulted in a neat "lose-lose" for Trump, managing to result in both higher insurance premiums and higher government spending (since the law still requires the government to pay for those higher premiums). These twin effects are, of course, exactly the opposite of Trump's announced health insurance goals.
And that brings us to the Big One, or rather the Only One, the desperate attempt to pass some form of tax reform to give the GOP something – anything – to run on in 2018. Trump, McConnell and Ryan are all aligned in wanting to pass something – anything – by Thanksgiving, to avoid all GOP congressmen from getting pelted with turkeys over their next break. The tax laws affect every adult American and the notion of cramming a complex 1,000-page piece of historic legislation into a three-week period is absurd. Furthermore, with the GOP utterly desperate to pass anything – Trump would sign a pastrami sandwich if Ryan and McConnell said it made it through Congress – we have the same conditions that breed the kind of legislation that often makes no sense (see; health care "repeal and replace" bills). "Tax reform" is long gone as the central theme; mere "tax cuts" are now the plan. Who would have thought the GOP would put forward a bill that would add $1.5 trillion to the deficit -- with no proposed offsetting spending cuts? When they control all branches of government and need only simple majorities to carry the day? Oh – that's what happens when you manage to turn your needed friends – Corker, Flake, McCain, Murkowski, Collins, etc -- into enemies. You may get your bill, but they will fight for what they want, with no fear of retribution.
The policy struggles may be rampant and symbolic of the whimsical and naïve approach to governing that has defined Trump, as the GOP establishment struggles to pin him down on issues, keep him focused on the priorities and get him to sell the programs, all routine activities for every prior President. Trump's absolute willingness to "self-distract" was on full display this month. Two major issues – the ongoing failure to support Puerto Rico adequately in the aftermath of Hurricane Marie, and the death of four Navy Seals in Niger, both devolved into pissing contests between Trump and the victims, of all people. His lack of empathy was on full display, tossing paper towels to supplies-starved hurricane survivors as if he were shooting t-shirts into a crowd at an NBA game, or fumbling a condolence phone call to one of the soldiers' widows. And worse, Trump turned their pain into public brawls – essentially blaming the victims -- that swallowed oxygen for a full week when so much else urgently required his attention.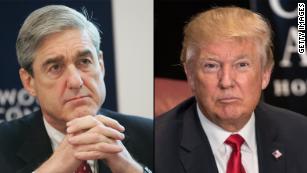 Which brings us to Mueller, and his bombshell charges against Manafort and Gates, and the far more surprising and devastating guilty plea from Papadopoulos of lying about his efforts to engage with Russians who had clear links to the Kremlin, over Hillary Clinton "dirt." It is hard to overstate the trove of materials yet to be revealed, and what they might say about the campaign officials involved in the Papadopoulos overtures and, inevitably, "what did Trump know and when did he know it." And, of course, these announcements have nothing to do with the obstruction of justice angle, or any Trump financial chicanery that Mueller may be exploring. Welcome back, Michael Flynn.
With apologies to Churchill, we may very well be at "the beginning of the end" and not simply at "the end of the beginning." Having said that, there are many months to go on this "long national nightmare."
Trump's approval rating continued to hold in the 40% range in October, roughly where it has been since June. The most recent weeks have shown slight slippage to the 39% range, but it is certainly fair to say that absent a major catalyst, America seems fairly dug in. Whether the Mueller bombshells are such a catalyst remains to be seen, but somehow I have my doubts.


Trump's approval ratings continue to percolate at an historic low. The chart below – using Gallup data, the only pollster with such a history – is a comparison of all recent President's approval ratings at roughly the 9-month mark (all are between 282 and 289 days in office). Trump's 35% rating (Gallup tends to be on the low end of pollsters on this Trump apporval measure) is positively anemic compared to the others, who were all at least 15 points higher. George W. Bush's 87% rating reflected the "ultimate" catalyst, his post-9/11 popularity in the face of an attack on America and a reasonably sure-footed initial response (which would, of course, not last, as Bush's approval rating ultimately dropped all the way to 25%).
| | |
| --- | --- |
| | At the 9-month mark (roughly) |
| | |
| | |
| | |
| | |
| | |
| | |
| | |
We continue to be amazed at Trump's inability to maintain a steady focus on his economic track record. While he deserves little direct credit for the strengthening economy – all of the indicators, with the exception of the stock market, are tracking in line with Obama's last year in office – you would think he would not only be taking credit (and he is) but talking it up constantly. He should be waking up every morning and tweeting about that.
The "Trumpometer" increased slightly in the last month to +15, meaning that key economic indicators are 15% better now, on average, than they were on Inauguration Day, driven largely by a strong Q3 GDP and a roaring stock market.
| | | | | | | |
| --- | --- | --- | --- | --- | --- | --- |
| | | | End Obama 1/20/2017 (Base = 0) | | | % Chg. Vs. Inaug. (+ = Better) |
| | | | | | | |
| | | | | | | |
| | | | | | | |
| | | | | | | |
| | | | | | | |
| | | | | | | |
The problem is that what goes up must come down, and three more years of bullish trends are highly unlikely. Having claimed ownership of everything to date, it will be difficult for him to find a culprit in the face of a stock market correction or a more tepid GDP. But if Congress fails to pass tax reform, they will surely become scapegoat #1, with Trump's new Fed Chair not far behind.