Tom with the BTRTN prediction – and call to action – for the Mississippi election.
Today the GOP will try to win another competitive race that should have been a Republican 30-point blow-out for them.

The Democrats have a shot for the same reasons they have flipped (or competed strongly in) many other red states and districts in 2017 and 2018:

a combination of an excellent blue candidate matched against a hapless red one, in the time of Trump.

Yes, there are shades of Alabama in the southern air today, as the Dems hope for a Doug Jones-esque miracle, modeled on the man who squeaked by the infernal Roy Moore in Alabama a year ago in December.
This seat was not meant to be contested in 2018.

Thad Cochran, the GOP incumbent, resigned due to illness earlier this year, and former state agriculture and commerce commissioner Cindy Hyde-Smith was named to fill his seat until a special election could be held.

The special election was set for Election Day, 2018.

The Democrats nominated former Clinton U.S. Agriculture Secretary Mike Espy, a widely-respected former U.S. Rep from Mississippi.

This solid match-up for the Dems turned what should have been a "solid red" race into one that provided some modicum of competitiveness.

(The winner will serve the remainder of Cochran's term, until 2020.)
The special election rules provided for a run-off election if no candidate achieved 50% of the vote.

There was a third viable candidate in the race, Republican State Senator Chris McDaniel.

Espy fared well in the special election, getting 41% of the vote, just a few tenths-of-a-point behind Hyde-Smith, forcing the run-off.

But the Republican McDaniel received 16% of the vote, and presumably his followers will be far more likely to support Hyde-Smith in the runoff, which would obviously give her a win by a comfortable margin.
The only obstacle to such an outcome has been the candidate herself, who has proven to be as toxic on the campaign trail as, say, Todd "Legitimate Rape" Aiken of Missouri, who blew an easy win to Claire McCaskill in 2012 with his gaffes.

Hyde-Smith does not have the same, um, behavioral issues as Roy Moore, but she is indeed a gaffe-machine of the highest order.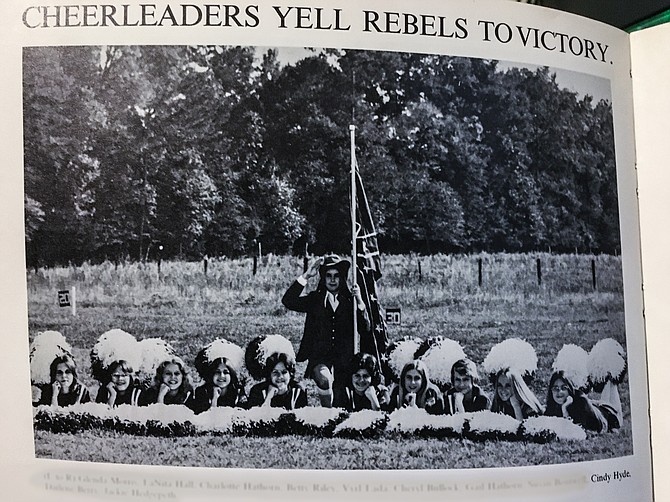 In the post-Election Day period, she declared that if a supporter "invited me to a public hanging, I'd be on the first row," and then she expressed support, publicly, for voter suppression of activities targeting liberals.

There is also a controversial picture of her from her younger days attending an all-white private school, a so-called "seg school," created to allow parents to avoid sending their children to integrated schools.

The picture shows her posing with her fellow cheerleaders, arrayed around a man dressed up as a Confederate general, holding a Dixie flag.
All of this has apparently tightened the race.

Polling had shown Hyde-Smith ahead by double digits.

But while there has been no public polling since the gaffes, there is a report of a private, internal GOP poll that has the margin at a mere five points.
We have to keep in mind, though, that Jones won a squeaker against a candidate, Jones, with far more baggage.

It is truly unclear whether Mississipians will find the Hyde-Smith gaffes troubling at all, much less enough to topple her.
Here is where you come in.

There is still time, today, to help.

Here is a link to Swing Left phone bank for Espy today.

There has been significant Dem energy and money pouring into the state, and the hope still remains that the same on-the-ground magic that created the "blue wave" on Election Day may come to bear in Mississippi.

Polls are open now and close at 8 PM EST tonight.
Having said that, it is prediction time:
BTRTN predicts that Cindy Hyde-Smith will remain Senator of Mississippi, beating Mike Espy by +6 points, 53% to 47%.
Post election review: We got this one right (much to our chagrin). Hyde-Smith won by a 54% to 46% margin (with 91% of precincts reporting).