The world stage in March was dominated by the Israeli elections and the intertwined issue of the US-led negotiations with Iran to sharply reduce Iran's ability to create nuclear weapons, in exchange for the lifting of economic sanctions.  These events illustrated how far we have come from the old-line alliance in which Democrats were the stalwart party for Israel while the Republicans were more likely to be critical.  Now we have reached the point whereby any critique of Israel at all is completely unacceptable for GOP politicians.  This has significant implications for the upcoming election cycle, and most immediately for both Jeb Bush and Hillary Clinton.
President Obama's foreign policy legacy largely rests on ending the massive U.S. military presence in Afghanistan and Iraq, and the killing of Osama Bin Laden.  While these are notable, they are somewhat diminished by the failed peace in both countries and the rise of ISIS to replace Al Qaeda as a terrorist threat.  Obama needs a proactive win, and at this stage of his presidency, Iran represents his best shot.  The indefatigable John Kerry certainly wants to make history as well, and indeed has worked tirelessly to bring the Iran agreement home.  He achieved a preliminary agreement that imposed restrictions on Iran's ability to create nuclear weapons over a 15-year time period, and averted a deadline by which negotiations could have been terminated.  A comprehensive agreement is still to be drafted, with a due date of June 30.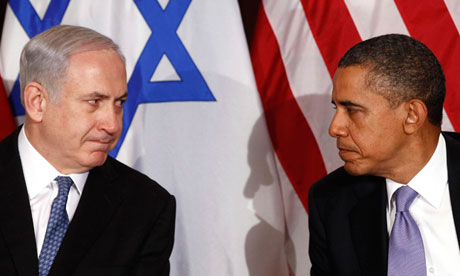 Benjamin Netanyahu, facing a tough re-election in Israel, found in the Iran agreement the perfect issue to deflect attention from the lagging Israeli economy, the dominant issue in the campaign.  Netanyahu loudly denounced the deal as it was being negotiated, aided and abetted by the GOP in Congress, who invited him to speak before a joint-session without bothering to inform Obama.  Then 47 U.S. GOP senators wrote a letter to Iranian mullahs pointing out that whatever deal emerged could fail to be ratified, or be quickly undone by a future GOP President.  Netanyahu then went into overdrive prior to the election and announced there would be no possibility of a two-state solution as long as he was in power, thereby undoing any last hope that Bibi would have a "Nixon in China" moment as a hawkish champion of peace.  He ended up winning the election handily and then walking the comments back immediately.
Through all this, Obama's foreign policy numbers have been holding their six-month trends.  Approval is low – at 37%, it is lower than his overall rating (see below) of 47% -- but it has been trending up, and the brouhaha over Bibi and Iran has not changed the dynamic much, with a general upward drift continuing, if anything, from a net negative of -20 to the current level of -14.
But the changing political landscape has implications for the future candidates, particularly the veterans – Clinton and Bush – who have to deal their own histories, and that of the three prior presidents to whom they are related, in these times.
Former George H.W. Secretary of State (and Reagan Chief of Staff) James Baker sharply denounced Netanyahu's statements, as might be expected, which in turn detonated an explosion of criticism of Baker – by the GOP.  You would think there are few icons of the GOP more untouchable than Baker, the man who not only served Bush and Reagan, but won the 2000 election for George W. Bush and is a close advisor to Jeb Bush.  Yet the Baker-bashing only served to underline that if Ronald Reagan – or indeed either of the elder Bushes – ran for office today with their views of their time, they could not win nomination.
Thus the problem for Jeb Bush.  By all accounts, thus far Bush is trying not to repeat the mistakes of Mitt Romney in tacking too far to the right in the primary season.  He is maintaining his rather moderate views on education and immigration in the face of very stiff grass-roots GOP opposition, yet he is finding other ways to find common ground with the far right.  All it took was one phone call from Sheldon Adelson to cause Jeb Bush to distance himself from James Baker, and I'm certain he had to take a long look in the mirror to measure his ambition before he did that.  After all, it was Baker who essentially bailed Jeb out when Jeb's Florida was the tipping point in the 2000 election.  There would be no Jeb Bush candidacy today had that gambit failed.
It is complicated for Hillary Clinton as well.  She will be forced to "take sides" in the Israel debate, and risk alienating her own base if she joins the critiques of Israel in this process.  At this juncture, the GOP has found a wedge issue that will make life uncomfortable for Clinton, and they will surely pursue this one to the max.
President Obama's approval rating continued to narrow and is back at a -3 net and rounds up to 47% approval.  Whether he can sustain progress and get to 50% is a data point that the Clinton campaign is surely tracking, as they try to determine how far they have to distance themselves from Obama in 2016, and how much to utilize him in the campaign.  Assuming she runs, of course.
The Econometer was stable over the last month, despite a weak jobs report.  (Weak by Obama standards; George W. Bush would have jumped for joy at a +126,000 figure in the waning days of his administration, when a -300,000 was more the norm.)  Consumer Confidence jumped back over 100.
Obamacare continued to be in the 42% approval range.  Doubtless the next bump will happen when the Supreme Court decides on the fate of those four magic words.  If the Court upholds the law and believes that subsidies were intended for all states with exchanges, whether a state exchange or the use of the federal exchange, I believe the long drive to a net plus will begin.
CONGRESSIONAL GENERIC BALLOT
Curiously, the GOP has taken a slightly wider lead in the generic ballot.  I have no good explanation for why this is happening, because the GOP leadership has not gained too much traction in putting forward their agenda, but there it is.  Democrats should be concerned because the analysis is clear -- the only way to take back a chunk of seats in 2016 is to have a significant net positive for the Dems.