Ah, a tournament for the ages!  No, not the NCAA's (though they have been pretty terrific), I'm talking about the REAL event, the American Crossword Puzzle Tournament (the "ACPT," to those in the know), the 38th annual, no less, which returned home to the Stamford Marriott this past weekend.  It had every element that characterizes this amazing event – intense competition, for sure, but also healthy doses of friendship, kindness, love, humility and humor – and then some, to put it mildly.
The puzzle tournament is the invention of New York Times puzzle editor Will Shortz, and he kicked off the proceedings on Friday night with the tale of the ACPT's origins.  This was appropriate, because the tournament was returning to the Stamford Marriott after a seven-year absence, pushed out in 2008 by a jump in attendance that could not be absorbed by the relatively cozy ballroom.  The attendance bump was a direct result of the release of "Wordplay," a spectacular documentary that chronicled the 2005 tournament, the major participants, some celebrity solvers and the mystical Shortz, as self-effacing and modest a hero as is possible, to his eternal credit and our delight.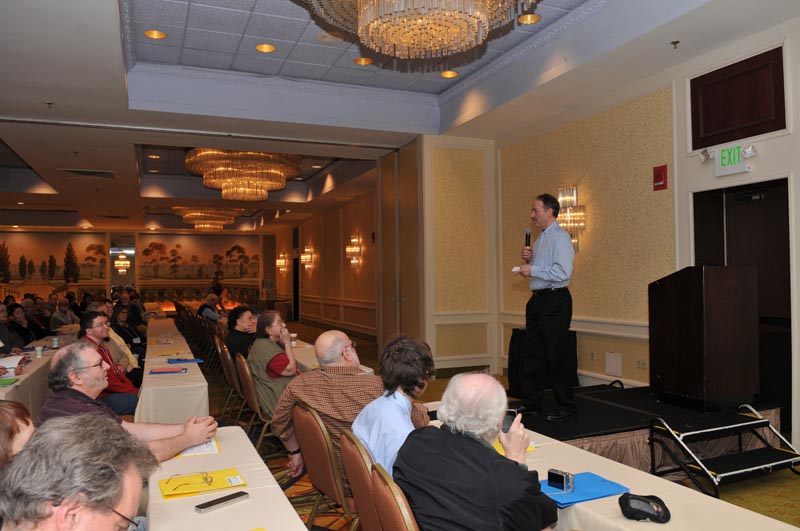 Will Shortz on how it all began
Shortz was a mere 25 years old when he was approached in 1977 by the marketing director of the then brand-new Stamford Marriott, Norton Rhodes, who was looking for a winter weekend hook for the new hotel.  Rhodes had approached Eugene Maleska, Shortz's predecessor at the Times, with the idea of a crossword puzzle tournament.  Maleska turned him down but introduced him to a friend in Stamford, who in turn knew Shortz.  On such a random spin of the wheel was history made.
That first contest in 1978 had 149 entrants and was won by one Nancy Schuster, who, happily, was in attendance as well this past weekend.  So was Mimi Raphael, the second winner in 1979, who would celebrate her 89th birthday on the Sunday of the tournament.
Many former champions also competed this weekend, and competed well.  Crossword contestants appear to hold their high standing well after the biological clock has slowed down many an athlete.  John Delfin, a seven-time champ, sat right next to us, and Doug Hoylman, a six-time champ, was in the room (and would claim top prize among 70-year olds).  So was Ellen Ripstein, the champ in 2001, as it happens, the first female champ since Mimi, and, alas, the last one as well.  And a sentimental favorite, Al Sanders, who famously lost in 2005 by leaving a blank in the championship game, denying him, a many time finalist, a shot at the crown (note that Al still finishes in the Top 10 routinely), all while the "Wordplay" cameras were rolling.  Al is clearly a crowd favorite, and the good grace with which he accepted his fate back then cemented his status as the archetypal Good Guy.
But the tournament itself – the competition – really belongs to two young men, Dan Feyer, age 37, and Tyler Hinman, age 30, who have won the last ten tournaments between them, in an odd kind of succession.  Tyler won in 2005 – yes, he beat Al Sanders in that historic "Wordplay" event, at age 20, for goodness sake – and continued to do so until 2009, when he was beaten by Feyer, who has held on since.  The two are perfect counterpoints, Hinman, red-haired, even younger looking than his age, emotive, with body language as he competes that calls to mind the best of Carlton Fisk, versus Feyer, cool, methodical, seemingly invincible.  Think Apple versus IBM, Mickelson versus Woods, Nadal versus Federer, Butch Cassidy versus Joe Lefors…you get the idea.
The weekend unfolds in its routinized manner.   The Friday night kick-off is an entertaining warm up.  After Shortz reviewed the history of the tournament, young David Steinberg, aged 18, gave a talk on his ongoing project that explores, analytically, the "Pre-Shortzian Era" of the New York Times puzzles.  This time Steinberg reported on his efforts to identify the hundreds of anonymous constructors of puzzles of that era (in those days, unlike today, the constructors of the Monday to Saturday puzzles toiled anonymously).  His process was statistical in nature, using computer programs to divine the unique patterns of constructors.  Quite an effort.  He was followed by several puzzles that were to be solved on IPads, that featured multi-media clues, to be done in teams.  Meet the future?  The pencil and paper set surely hopes not, and there were enough glitches in the software to give hope that the day this becomes the norm is well off.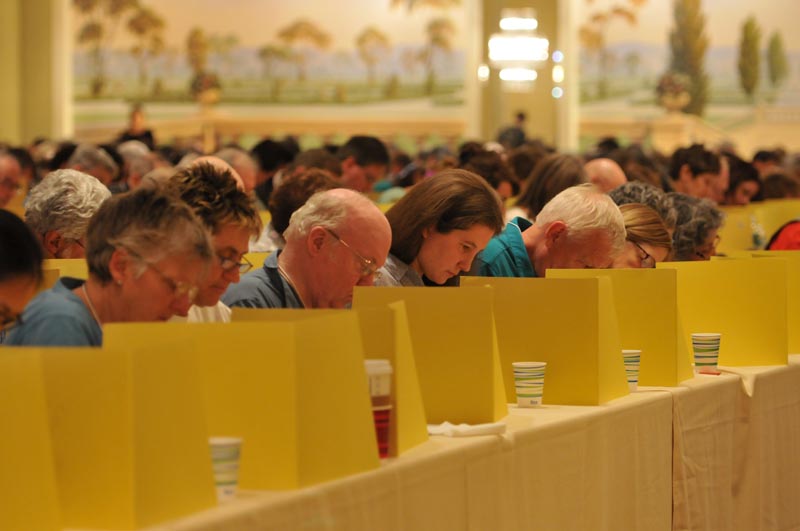 The games begin
The tournament began in earnest on Saturday.  Six puzzles to be solved, from 11 AM to roughly 5 PM, of varying length and difficulty.  An inadvertent guest coming across the ballroom might assume that some grown-up version of the SATs was underway.  Near total silence fills the air as the contestants' pencils scratched (and if not pencils, then heads, in puzzlement) on grids against an ever downward counting clock.  Points are awarded for both accuracy and speed, and the tension between the two is often unbearable.
My wife, Wendy, our daughter, Kristy and I have been competing as participants for four years now.  We attended two tournaments in the post-"Wordplay" years simply to watch.  We did not think we were good enough to compete.  But the tournament is an "open" one, and if you are willing to fork over the entrance fee, you are in.  This year there were 560 or so players, a level that allowed the tournament to return to the smaller Stamford Marriott after the post-"Wordplay" boost forced the move to a larger Marriott in Brooklyn.  Thus, while we were attending our sixth tournament in one capacity or another, this was our first time in the hallowed Stamford setting.
Wendy and I typically finish ranked in the 500's, a testament to our rather modest skill level.  We are probably among the better solvers in our hometown, but in this setting we are clearly bottom dwellers.  My goal is to crack the Top 500, which Wendy has already managed once.  I have progressed from 542nd, to 518th, to a heartbreaking 503rd last year.  Kristy, however, is quite good, and has steadily risen from our level, (where she started) up to the mid-300's.  She even graduated from the lowest skill level (where we reside), Division E, up to the next level, Division D.  We are all a long way from the elite, Division A, of course, but it is nice to see progress!
The Saturday puzzles have their own personalities, reflecting the constructors, who, as David Steinberg assessed analytically, have unique and discernible styles.  Perhaps even more defining, however, is the order of the puzzles.  Puzzles 1, 4 and 6 are usually "easy" by the standards of the collective whole, while puzzles 2 and 3 are harder.  And then there is Puzzle 5, which is simply agonizing.  Those of us in the nether region of the tournament rankings are tormented by Puzzle 5, and often find ourselves staring at a largely blank piece of paper well into the 30 minutes allotted to complete it.
Matt Ginsberg and "Dr. Fill"
There are two noises that penetrate the silence during puzzle completion.  The first is the printer attached to "Dr. Fill," a computer program devised by computer scientist Matt Ginsburg that is the crossword equivalent of "Watson," the famous IBM computer than handily whipped Ken Jennings, the legendary Jeopardy champ a few years ago.  While Dr. Fill is not yet in Watson's class – it finished 63rd last year, unofficially – it does solve puzzles disconcertingly fast, if not always completely accurately, and the rather loud printer that spits out his result almost always punctuates the silence within one minute of the start. 
The other noise is that off the better players leaving when they are done, some just minutes after Dr. Phil's printing, and the occasion of their departure is marked by the clattering of the closing doors in exiting the ballroom, a rather loud noise that is intimidating when the first few players leave, and utterly devastating when exits begin in earnest as the mode of skill level is found – with the rather clear reminder that you are far from that mode, and in the wrong direction.
One of the many pleasures of the tournament is the bond one forms with your immediate puzzle "neighbors," those sitting next to you, in front and behind as you solve.  A yellow cardboard divider nominally separates you from your neighbors, but after all that silent tension in completing the puzzle there is a huge pent-up desire to converse between puzzles.  We always have fun with our neighbors – almost certainly complete strangers – and this year we were delighted to have a particularly fun crew.  Many thanks to Nicolette, Martha, Heidi, Paul and Susan!
After the six puzzles, the competition is suspended for the night.  On Sunday morning there is a seventh puzzle, a juicy 45-minute one, followed by three sets of finals, one each (and in turn) for Divisions C, B and A.  But first, the Saturday night festivities.  These vary from year to year, but this year was largely devoted to the 10th anniversary of "Wordplay."  There was a kickoff of the world premiere of a short film on palindromes – clearly we were the right crowd for the debut, and the film was greeted enthusiastically.
The 'Wordplay" director, Patrick Creadon, and his wife and producer Christine O'Malley, took the stage, with a wonderful talk about the making of the film, interspersed with scenes long memorized and fondly recalled by the audience.  Vic Fleming, a judge from Arkansas who had talked former President Clinton, a crossword buff, into appearing in the movie, took out his guitar and led the audience in a rendition of his song, "If You Don't Come Across, I'm Gonna Be Down."  If there is a crossworders' national anthem, that is it.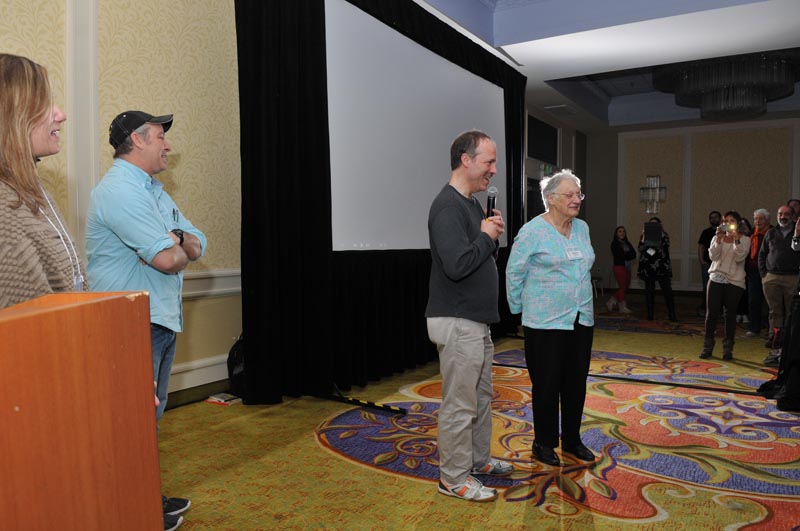 Christine O'Malley, Patrick Creadon, Will Shortz and Mimi Raphael
That we were back at the Stamford Marriott, the setting of much of the film, added to the emotional punch of the evening.  But all that was just the prelude.  The talk ended with a scene from the movie featuring Mimi Raphael, the woman who had, you will recall, won the second tournament back in 1979 and would be celebrating her 89th birthday the next day.  In the clip, Mimi recalls how her husband had died, years before, just after a tournament had ended, from a heart attack he suffered in the lobby of that very Marriott, as they were leaving.  And she went on to say that it was difficult to come back but her husband would have wanted her to do so because it was such an important part of her life, and that she never went out the lobby entrance again.  When the clip ended, we were all teary-eyed, and then we sang a heartfelt "Happy Birthday" to Mimi as she stood up before us.
All this before an unforgettable Sunday!  We attacked Puzzle 7 first thing in the morning, one of the easier puzzles that I finished just under the closing bell (as it happened, with three letters wrong).  At this point, I was in 462nd place, feeling some mix of confidence and trepidation about the chances of meeting my goal of finishing  in the Top 500.  (Those wrong answers can really hurt; among other penalties, you are denied a 150-point bonus for a perfect puzzle.)
And then came one of the more charming aspects of the weekend, the Talent Show (a.k.a. "Crossworders Got Talent.")  This is essentially a light filler to kill time while the final scores are tallied to determine the A, B and C finalists.  For an hour, about 8-10 acts take the stage, amateur musicians, poets, stand-up comedians, even jugglers at times, who often tailor their acts to crossword themes.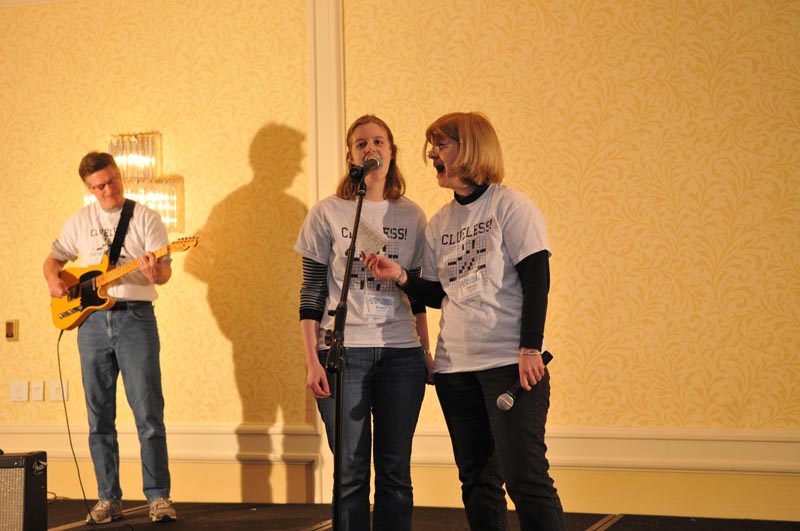 "Clueless"
We are performers in this event.  We put together a little band that we call "Clueless" (complete with t-shirts), which speaks to our crosswording ability as well as our musical talent.  I play a little guitar, Kristy sings and Wendy plays the piano (although this year, the Marriott had no piano and Wendy heroically jumped into the role of back-up singer).  We do song parodies.  Last year we sang about what a "Wonderful World" it would be if we (well, I) could crack the Top 500, and this year's effort was themed around the notorious Puzzle 5, with appropriately desperate lyrics set to the tune of the 1980's mega-hit "Don't Stop Believing." 
We were in good company.  The legendary puzzle constructor Merl Reagle opened with some word games cum stand-up.  Vic Fleming performed lovely puzzle-themed duets with Matt Ginsberg's daughter.  Other acts, by contestants whose names I missed, included a love lament and a song dedicated to the constructors of the New York Times' Saturday puzzles (the hardest of all).  Mimi's sister told a story, and the blues guitarist Tommy Lee Cook ended with a medley (he's a pro, I was proud that he was using my amp!) and then led the group in another rousing (and blues-infested) version of "Happy Birthday to Mimi" to cap it off.
The Talent Show was followed by the awards ceremony, which honored top finishers by age, geographic region, skill division and the like.  We looked on in envy as Will called up the honorees one by one, who received their trophy and a free puzzle book of their choice.
And then came the finals.  The format is rather surreal for the finalists.  Three large easels holding blank puzzle forms are set up facing the audience.  Each player dons a headset to block out noise (not with silence, but with taped U.N. deliberations, of all things; Will assured us this was soothing, not distracting, hard as that is to believe).  The three finalists start the puzzle on a staggered basis, in the order of how many points they amassed in the competition….the more points one is ahead, the more precious seconds head start one receives.  Remember this particular rule as you read on.
The Division C competition featured the first of perhaps many wins by young David Steinberg (of "Pre-Shortzian" fame).  Steinberg finished second in terms of time, but Alex Egervary, who finished first in speed, had one wrong, whereas Steinberg was perfect.
For the Division A and B finals, the same puzzle is used as in Division C, except the clues are different and that much harder.  The other difference was the introduction of "announcers" into the proceedings, in the persons of much-honored music composer and orchestrator Greg Pliska and stand up comic and NPR host Ophira Eisenberg.  They are completely suited to the task and are generally hysterical.  Greg kicks off the proceedings echoing the late Cub Ernie Banks…"it's a beautiful day for a crossword puzzle, let's play two!"
Greg Pliska's story was yet another bit of kismet injected into the weekend.  As it happens, he and his wife, Jessica, first met at this very tournament in, yes, 2005 (the "Wordplay" year); they were married within a year of meeting, and now have two delightful children.  Greg is one of the two tournament regulars that I knew in a prior life…we both attended Williams College and served together on an alumni committee years ago.  As it happens, not at all surprisingly, we both participated religiously in the Williams College Trivia Contest, an event of even longer lineage than the ACPT.  The Williams contest will be celebrating its 50th anniversary (and 100th contest, since it is biannual) in 2016.  My teams have won four Trivia Contests over those years, while Greg has played on three winners. 
Andrew Feist took the Division B title, and with that, all that was left was the main event.  Given the extraordinary karma that existed throughout the weekend, it ended the only way it possibly could have.  Dan Feyer headed into the event on top, with enough of a lead to earn five extra seconds over Tyler Hinman.  Howard Barkin, an extraordinary player on his own, a three-time finalist, was not to be discounted either, as he had tied Tyler in points and they would start at the same time.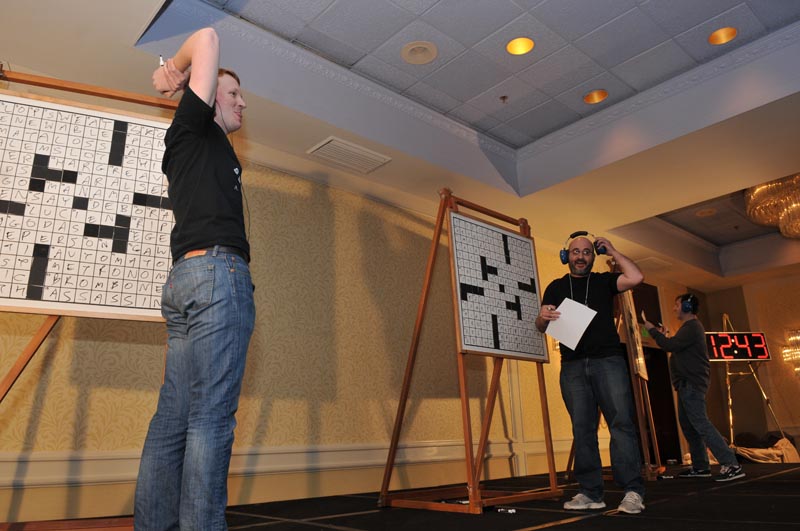 Seconds after, Tyler and Dan
If the Division B clues were very hard, the Division A clues were, in Will's own terms, "excruciating."  Byron Walden had constructed the puzzle and it was worthy of the event.  (Byron had, of course, also constructed the finals puzzle used in 2005.)  Dan seemed to grab command early.  Tyler, arms flailing, had trouble making any dent in the board at the outset.  But suddenly Tyler found his rhythm and seemed to edge ahead as the puzzles neared completion.  From then on, with rising excitement, the audience rumbled and then roared until only a few empty boxes remained.  And then Dan raised his hand, followed nearly instantly by Tyler, and it was over.  Dan needed every one of those five bonus seconds he had earned over the course of the two days to prevail, winning by, at most, half a second.  The crowd was in bedlam (while poor Howard, doubtless cognizant that something extraordinary had just happened, if only through the vibrations in his feet, plowed on), and Tyler theatrically crumbled to the ground, lying flat in despair.
Tyler did a wonderful job alternating between expressing his sheer wonder at what had just transpired with his genuine disappointment at falling just shy.  While he has been a finalist, and lost to Dan before, it was never this close.  But he had actually completed the puzzle in a faster time than Dan, and surely that augers well for next year.
Dan, now with six titles, has said he would quit at eight if he reached it, a level that would push him past John Delfin and establish him as the all-time leader.  I wonder if he has considered that if he indeed managed to win twice more, and then retired, that, given his age, Tyler would have a very good chance of reclaiming the top mark with four quick wins in his absence.  Would Dan return then, a la Muhammad Ali, to challenge his usurper?
We can only wait to see how it all unfolds.  Or to see if Howard Barkin steps up, or Joon Pahk or Kiran Kedlaya break into the finals, or Anne Erdmann or Al Sanders returns to the finals and wins. 
As for us….well, Kristy rocketed all the way to 306th, yet another major leap up the ladder.  Wendy came in at 515th, unable to do one perfect puzzle, and she is already strategizing on how to improve.  As for me, I finally did it…I cracked the Top 500, and finished in 468th.  And, indeed, for that, and for that amazing weekend, what a wonderful world it is.
Great puzzles are the work of great constructors, masters at their craft.  But a weekend like this depends on much more.  Will Shortz has built an amazing thing in 38 years, an event that is incredibly human and warm-spirited in nature, where life and love are celebrated in ways that exceed the boundaries of acrosses and downs.  See you all next year!
(All photographs taken by Don Christensen, reprinted with thanks!)