August is often a sleepy month, but not this year.  This was an explosive month on the campaign trail, with the first GOP debate, a surging Donald Trump, a sagging Hillary Clinton and a pensive Joe Biden.  Four key questions emerged:
1.

    
Who won and lost the GOP debate?
  From the chart below, you can clearly see the big winners were "The Outsiders," Carly Fiorina, Donald Trump and Ben Carson, none of whom are politicians by trade.  The only politicians who did well enough to show upward movement were John Kasich, who jumped in New Hampshire and Ted Cruz, who made some progress in both Iowa and New Hampshire.
The big losers were the two prior front-runners, Jeb Bush and Scott Walker.  Both employed very cautious debate strategies and both were badly hurt, appearing wooden and spiritless, a sharp contrast to Trump. 
All the rest – the ones in the chart below from Rubio down to Huckabee – lost as well, because this was a huge opportunity – with 24 million viewers, thanks to Trump – to break through, and they all basically failed.
Fiorina made that breakthrough, and she did it from the "kiddie table," which is remarkable.  But the real story was Trump, who was as outrageous as ever and came out the better for it.  Which brings us to the next big question.
PCT. POINT CHANGE IN POLLS:

Pre-debate versus Post-debate polls
2.  What can derail Trump? 
I think we can disabuse the theory that Trump will "self-destruct."  Can he utter anything more odious than he has already?  The media tends to speak of Trump as operating "under different rules" but I am not too sure.  I think he is simply appealing to a sector of the electorate that itself operates under different rules.   These people are highly disenchanted with politics as usual and mistrustful not only of Democrats and moderate Republicans but conservatives as well.  They are not Tea Party per se but rather cut across virtually all GOP sub-segments as well – the polls show that Trump leads the field among GOP women, for example.  Trump's unfiltered outrage is what they like about him, no matter what he says, what his positions are, or once were.  Next to Trump, all the others, from former top blowhard Chris Christie to mild-mannered Jeb Bush, sound like robots.  Is this really shocking?  After all, Warren Beatty figured out the potential of this phenomenon in Bulworth in 1998.  (It's worth watching that movie again through the Trump lens.)
Trump will ultimately be taken down by two things: 
·

        
He is not a die-hard deep-rooted conservative a la Rick Santorum or Mike Huckabee, and this is not well known, yet…inevitably he will be scrutinized as he puts out more position papers, and as everyone gets more serious, this skin-deep newfound conservatism will disappoint.
·

        
The GOP field will at some point begin to winnow, and the establishment wing of the party will coalesce around one of Bush, Rubio or perhaps Kasich (Walker might actually be done), the money will fly, and Trump will be left to decide whether or not to mount a third-party challenge.
3.

    
Is Hillary in trouble
?  We need to parse this one a bit (in true Clinton style).  The short answer is probably "no" in terms of the Democratic nomination, possibly "yes" for the general…but only if the GOP puts forth a strong candidate, which is highly unlikely.  All of the recent Hillary negatives are related to one issue, the emails.  My view is that as long as the email issue is confined to whether she was careless or broke rules or even exercised poor judgment, she is safe.  But the minute anyone actually surfaces an incriminating email (e.g., about Benghazi) that she was clearly trying to hide, she is in deep trouble.  She can withstand some heat because of all of her institutional advantages, as well as the weakness in the field.  Bernie Sanders is a convenient opponent for her, because most Democratic voters would be terrified of putting him on the ballot.  That logic does not apply to the Iowa crazies and neighbor New Hampshire crazies on the left; Bernie could/may/should do very well in those two particular states.
But in the general election….Hillary now has a 41% approval rating, down about 6 points since January, perhaps not as much as you think (see chart).  But consider that Barack Obama's is about 48% and the low '40's give you pause.  Her best asset (as will be shown in the "Hillometer" below) is the inability of the GOP to put forward a respectable candidate who can win.  McCain and Romney were turned into raving faux conservatives who fooled no one and each lost easily to Obama.  Jeb Bush is no better than they (plus he has that name) and will likely suffer the same fate.  But Hillary had better get that approval rating much higher than the current standing or it provides a true opening for the GOP.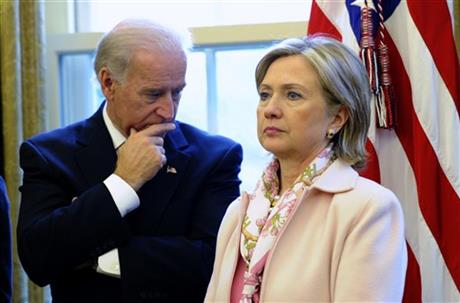 4.

    
Will Biden run?
  Stay tuned on this one, but I think not.  I think he is waiting as long as he possibly can, to see if Hillary can turn it around.  He says he will announce his decision in September.  My bet:  late September.   Or even early October.  The key dates are October 13th, the first Democratic debate, and October 31st, when filing for the Iowa caucus must be completed (no easy task).  Jill Biden is reportedly against a run, most Democratic leaders are opposed to it, and Biden at the end of the day is a loyal Democrat.  My bet is he passes unless Hillary absolutely tanks, which is highly unlikely.
Instead of showing the GOP August polls versus July, I have split the national GOP polls into "pre-Debate" and "post-Debate" (the debate was on August 6), and the Iowa and NH polls basically split that way in comparing August to July since there were no pre-debate August polls in those states.  You can see everything I cited above…Trump improving his position, Walker falling disastrously, Bush falling as well, Carson gaining nationally and in Iowa, Kasich in New Hampshire, and Fiorina everywhere.  Quite a shake-up, but above all:  Trump, Trump, Trump.
| | | | | | | | | | | |
| --- | --- | --- | --- | --- | --- | --- | --- | --- | --- | --- |
| | | | | | | | | | | |
| | | | | | | | | | | |
| | | | | | | | | | | |
| | | | | | | | | | | |
| | | | | | | | | | | |
| | | | | | | | | | | |
| | | | | | | | | | | |
| | | | | | | | | | | |
| | | | | | | | | | | |
| | | | | | | | | | | |
| | | | | | | | | | | |
| | | | | | | | | | | |
| | | | | | | | | | | |
| | | | | | | | | | | |
| | | | | | | | | | | |
| | | | | | | | | | | |
| | | | | | | | | | | |
| | | | | | | | | | | |
| | | | | | | | | | | |
| | | | | | | | | | | |
On the Democratic side, Bernie Sanders is nominally ahead in New Hampshire, and he remains well behind Hillary in Iowa (though the most recent poll shows Clinton's lead down to single digits – we'll see if that is an outlier or not).  I truly think Bernie needs to win both to have the faintest hope of securing the nomination, but even if he does win both, Hillary is much stronger than Bernie in the South and West.  A big part of that is her dominance among African-Americans.  Bernie's fumbling with the "Black Lives Matter" movement and the fact that Vermont is almost a totally Caucasian state are problems he must overcome in this crucial segment, particularly in the South.
Our new unique measure of Hillary Clinton's electability, the "Hillometer," fell for the fourth straight month and is now barely positive, at 1.  Her sagging favorability score is the key measure here, as well as a narrowing (though still positive) gap in head-to-head polling over the top three GOP potential candidates, Trump, Bush and Carson.  She still holds a 6-point lead over them (on average) but that, as noted earlier and demonstrated below, is her main asset.   And that clearly reflects issues with the GOP field rather than overwhelming approval of her.  Is there a shake-up in the Clinton campaign ahead?
| | | | | | |
| --- | --- | --- | --- | --- | --- |
| | | | | | |
| | | | | | |
| Hillary's margin vs GOP leader (Avg. Top 3) | | | | | |
| Hillary's favorability rating | | | | | |
| | | | | | |
| | | | | | |
| | | | | | |
| | | | | | |