The last two of five special elections in the House of Representatives will occur tomorrow, June 20, the very high visibility race for Georgia's 6
th
District and the less publicized (and likely one-sided) contest for South Carolina's 5th
District.
To refresh, these elections are required because Trump named four House members to his Cabinet, and a fifth, a California Democrat, was named that state's Attorney General. Many eyes are focused on these races as referendums on the state of the Trump presidency (and this is a legitimate thought) and also as a predictor of the 2018 midterms (this perhaps far less so given we have 16+ months to go). Here are the five in chart form:
| | | | | | | |
| --- | --- | --- | --- | --- | --- | --- |
| | | | | | Opponents (D versus R exc Cal) | |
| | | | | | Thompson - Estes | |
| | | | | | Quist - Gianforte | |
| | | | | | | |
| | | | | | | |
| | | | | | | |
The GOP has managed to hang on thus far, but the races in Kansas and Montana were far closer than their November counterparts. Republican Ron Estes won Kansas' 4
th
District by a mere +7 points, just six months after Mike Pompeo won the same seat by +31 and Donald Trump took the district by +27. And in a race notable mainly for the winning candidate body slamming a reporter the night before Election Day, Republican Greg Gianforte managed to beat the less-than-optimal Democratic challenger Rob Quist by only +6 points, far closer than Ryan Zinke's +15 point win and Donald Trump's +20 margin in November. Clearly, the GOP is on the defensive; both of those seats were considered "Solid Red" and would not have typically hit the radar screen as contested, "flippable" seats.
California's 34th was truly uncontested, as two Democrats finished 1-2 in the primary and thus claimed 100% of the votes in the run-off election. Jimmy Gomez beat fellow Democrat Robert Lee Ahn to succeed Xavier Bacerra.
On to tomorrow's races where virtually all of the national focus will be on Georgia.
South Carolina's 5
th
District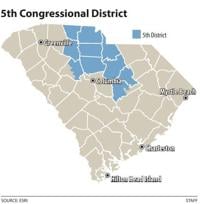 Let's start (and quickly dispense with) South Carolina's 5
th
district, which does not appear to be following the Kansas/Montana pattern, though we will see on Election Day. Mark Mulvaney vacated this district when he was named Trump's director of the OMB. It will be a contest between Republican Ralph Norman and Democrat Archie Parnell.
Norman is a former GOP state representative who had a doozie of a primary season with Tommy Pope, another former GOP state rep. In the first primary, Pope finished ahead of Norman 30.4% to 30.1%, with neither coming close to hitting the 50% mark, thereby necessitating a run-off primary. In that contest, Norman turned the tables and won 50.3% to 49.7%, a razor-thin 221-vote margin that required a recount to confirm. Parnell, a tax attorney, handily won the Democratic primary with 71% of the vote.
Like the Kansas and Montana races, this is Solid Red country. Mulvaney won his race by +20 points, and Trump carried the district by +18 in November, 2016. But unlike those races, this one seems to be heading toward an easy win for Norman and the GOP. There has been only one recent poll, and it had Norman up by +17 over Parnell.
This is the heavyweight battle, featuring Democratic hopeful Jon Ossoff and Republican Karen Handel in a race that has been both remarkably well-funded and exceptionally tight.
This was Tom Price's seat, Trump's director of Health and Human Services (yes, the same guy who has apparently yet to see the Senate's version of the health care bill, even though he is allegedly the expert as well as the person responsible for national health care policy – but I digress). Price won the seat in November by a comfortable +24 points margin.
But the Democrat's initial optimism, and the reason it drew so much attention in the primary in April, was due to Hillary Clinton's strong showing in the district in 2016 relative to that of Barack Obama in 2012 and 2008. She lost to Trump by only a single point, 48/47. Obama, on the other hand, was defeated by +18 points by John McCain in 2008 and +23 points by Mitt Romney in 2012.
And even though Price won comfortably in November 2016, by +23 points, that margin was slightly tighter than his wins in 2014 (+32) and 2012 (+29). All of this, plus the rather disastrous start to the Trump administration and Price's own failure as a key player in the "replace and repeal Obamacare" debacle, led to initial Dem optimism that they could win here.
And how close Ossoff, a political neophyte who had been a Hill staffer and more recently a film documentarian, came to pulling it off in the April primary! With the nation watching, he easily outpaced a bloated 18-person field, winning 48% of the vote, just shy of the 50% required to have taken the seat outright and obviate the need for a runoff.
Thus he and Handel, who came in second with a mere 20% of the vote, will go head-to-head tomorrow in the runoff. Remarkably, the other Democrats in the primary won only a single other point collectively, while the GOP candidates after Handel garnered 31%, so the total GOP vote was 51% to the Dems 49%. Hence Handel's challenge is to unify the GOP voters and hold on to that edge. Handel served as Georgia's Secretary of State from 2007 to 2010 (please do not ask me to explain what a state Secretary of State actually does).
Georgia's 6
th
is comprised primarily of northern Atlanta suburbs, which have higher median incomes than the state as a whole as well as greater educational attainment. It also has a reasonably significant minority population, roughly 25%. An astonishing $50+ million has been spent on the race, with Ossoff having the advantage, having directly raised $23 million overall this year to Handel's $4 million, though Handel has a slight edge in outside money.
Polling has been extensive. There have been nine polls since mid-May and Ossoff has led in eight of them, and the other was a tie. On average the margin is Ossoff by about +2-3 points. Three of those polls have been in the last week and they are remarkably consistent, with Ossoff leading in each, 50-49, 50-48 and 50-47. It is notable that he achieved the 50% mark in each. Also worth noting is that 140,000 ballots have already been cast; there were 326, 000 votes cast in total in November.
BTRTN believes that Ossoff will win the Georgia 6
th
election by a nose, 51/49, and that Norman will win the South Carolina 5th
election by a healthy 58/42 margin. The Georgia outcome will be viewed as an important victory for the Dems, and will reduce the GOP margin in the House to 240-195, meaning the Dems will have to flip 23 more seats to regain control of the House in 2018.
While the Dems will do cartwheels over a Georgia win, caution must be taken with respect to 2018. As mentioned, the midterms are still 16 ½ months away, as our countdown clock shows, more than 500 days of tweets, investigations, potential legislation and unknown earthshaking events. There is plenty of time for all outcomes to emerge, from a startling Trump comeback to a somber Pence presidency.
Having said that, the Dems are in the driver's seat right now. They hold a +6 lead in the generic ballot, which, according to our proprietary BTRTN model, would translate to a gain of 45 seats for the Dems, about double what they would need to regain the House.