Tom has spoken to many despairing Democrats recently and given them this spiel. Maybe the rest of our readership can use it, too.
This is how many Democrats size up the 18 candidates remaining in the presidential field: He's too old.

She's too left wing.

He's too old AND he's too left wing.

He's too young and also he's gay.

She was promising but faded.

And the rest of them – they're too low in the polls, at two percent, or less.
And this is how they view Trump:

He won last time when they said he couldn't.

He defies convention.

Nothing sticks to him.

His supporters are mesmerized and they get out and vote.
And this is what those Democrats conclude on the 2020 election:

We're going to lose.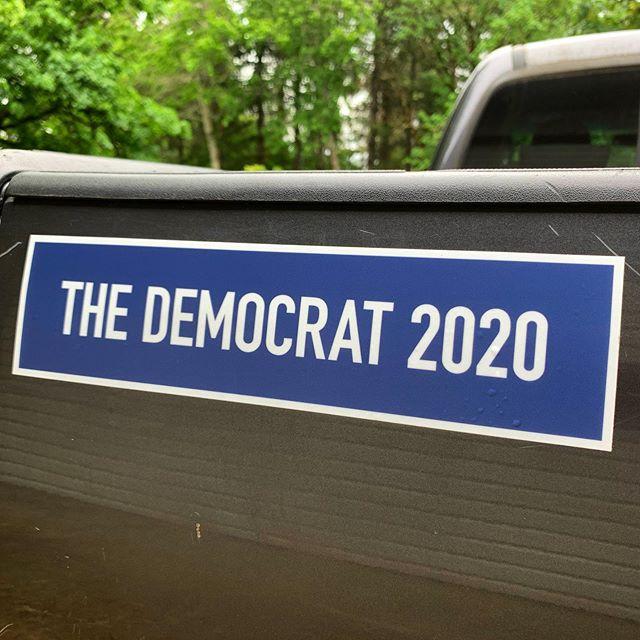 The purpose of this article is to convince despairing Democrats that they actually have an excellent chance of defeating Donald Trump in 2020.

The facts, as they stand now, to support this assertion are overwhelming.

If the election were held today, all the Dems have to do is work (very) hard for the party's nominee to get the voters to the polls.

The days of landslides are probably over with so many deeply blue and red states on the map, but the outcome would still not be terribly close.
Let's take a realistic – analytic, if you will -- look at the election.
And to help with that, let's look at it from the perspective of clear-eyed Republicans.

Pretend, for a moment, that you are a longtime Republican strategist who is asked to give the Trump campaign a straight-up assessment of his reelection prospects.

Unfortunately, after Trump was elected, you spent three years on the dark side of the moon, and therefore are not at all current on U.S. politics.

You are a straight-shooter and, like all good political strategists, clear-eyed – you want the lay of the land, the facts, on which to base your assessment.
·
Your candidate's approval rating is 42%, give or take a point or two.

It has never reached 50% in his entire first term, a first for a first-term president.

It has been as low as 38% but has never exceeded 45%, suggesting the "floors" and "ceilings" for support of this divisive president.

Your candidate's "disapproval" rate is roughly 56-57% and about 45% "strongly" disapproves of him.
TRUMP MONTHLY APPROVAL RATING






·
As you probably know, only one President running for re-election in the polling era (since Truman, that is) was able to win reelection with an approval rating of less than 50%: George W. Bush in 2004.

But his approval rating was 48%, which your man has yet to reach, and he is well below that.
APPROVAL RATING AMONG INCUMBENTS BEFORE SECOND TERM ELECTION DAY (PER GALLUP)

Approval Rating Before 2nd Term Election Day

Re-election results (popular vote)
·
In the 2018 midterms, the Democrats flipped 40 seats and took control of the House in an election widely viewed as a referendum on your candidate.

This is hardly new; most first-term president lose seats, often of similar magnitude or more.

But Reagan (who lost 26 seats), Clinton (54) and Obama (63) all significantly improved their approval rating in time for their reelection.

In those two years, Reagan jumped from 43% to 58%, Clinton from 46% to 54%, and Obama from 45% to 50%.

Your candidate is stuck just below 40% (using comparable Gallup polling numbers), with no sign of upward movement.
·
To that point, there is no near term "catalyst" in sight to bolster your candidate's approval rating or overall electoral prospects. His domestic agenda was pretty thin even when the GOP controlled both the House and the Senate in his first two years; all he could pass was a tax cut so modest that one-quarter of all Republicans are not certain there even was one.

Anyway, hope of any further domestic legislative "achievements" died when the Democrats took over the House in 2018.
·
And his major foreign policy initiatives, including China (trade war), North Korea (eliminate nuclear arsenal) and Iran (ripped up Obama's nuke deal, desiring a "tougher" one) have all stalled.

The Iran maneuver has further destabilized the region since the Iranians, rather than crawling back to the negotiating table as hoped, are rather tossing bombs and detaining ships with abandon.
·
And finally, your candidate's major calling card, a healthy economy, may not last until next November.

While the unemployment rate is excellent, GDP growth has slipped back to the 2% rate of the Obama years that your candidate vowed to exceed.

You should familiarize yourself with the current "inverted yield curve" that typically signals a coming recession.

And you might want to brush up on the deficit, which the Democrat Obama greatly reduced in his tenure; the opposite has occurred under the Republican Trump, and is forecasted to exceed $1 trillion in 2020 for the first time since 2012.
·
In recent national polls, your candidate's leading rival, Joe Biden, despite his age and self-evident flaws (and your candidate's own efforts to smear him, but more on that later), is beating your man by +8 points (51/43).

The more progressive contenders, Elizabeth Warren and Bernie Sanders, are both beating him by +6 points (50/44), despite progressive policies that may be out of step with mainstream America.
·
Among those who voted for Trump in 2016, head-to-head polls show that 7% say they would vote for Biden instead in 2016.

Only 2% of Clinton voters in 2016 say they will now vote for Trump.

That's a swing of a 5 percentage points from Trump to Biden, which is enormous.
·
Your man is losing the suburbs, the bastion of proper Republican conservatism; educated, upper middle class whites who have an abiding belief in the GOP pillars of strong defense, balanced budgets and free trade, and who are now horrified by your man.
·
His weakness is not just national.

If you think you can pull a swing state miracle as in 2016, think again.

Recent swing state polling does not confirm that theory.

Look at the states Trump won in 2016:

Florida polls show Biden +5 over Trump and Warren +3.

Ohio:

Biden and Sanders +6, Warren +4.

North Carolina:

Biden +5, Sanders +2, Warren +1.

Michigan:

Biden +10, Warren +6, Sanders +4.
·
Perhaps this poor swing state polling is related to the fact that voters in those states have soured on Trump remarkably in the past two-and-a-half years.

In every single swing state Trump's net approval rating has gone down significantly, on average by 19 points.

This includes the mighty trio that he flipped, Michigan (net change of -18), Wisconsin (-20) and Pennsylvania (-18), as well as red states that he won by relatively small margins such as Florida, North Carolina, Arizona and Georgia.

Plus states that he won rather easily like Iowa, Texas and Ohio.






Change in Trump Net Approval Rating

(Approval Minus Disapproval)
·
Did I mention that your candidate is being impeached?

Yes, the impeachment inquiry is underway in the House now.

Fresh off what was perceived as a "victory" with the Mueller report, which found insufficient evidence that your candidate's campaign team colluded with Russia in tampering with the 2016 election (yes, you read that right), your candidate began openly colluding with Ukraine to tamper with the 2020 election (yes, you read that right, too).

Career non-partisan diplomats and White House officials are testifying right now in Congress that your candidate withheld badly needed aid to Ukraine to deter Russia (and dangled the promise of a White House meeting) if the Ukraine president announced that he would investigate Joe Biden and his son Hunter (the son was a board member of a Ukraine company, and no wrongdoing has ever been found).

Oh yes, he also wanted them to look into the 2016 election, believing (incorrectly) that Ukraine had the long-sought after server with Hillary Clinton's missing emails.

Yes, you are correct, that does sound like a textbook abuse of power.
·
Impeachment polls indicate that just about half of Americans want to see your candidate impeached (49% to 44%, according to fivethirtyeight.com).

This number is rising – it's up roughly 10 points since the impeachment inquiry began.
·
At a time when your candidate needs his allies the most, he manages to do things that truly alarm them.

He abandoned the Kurds in Syria, and the Turks promptly ran them over.

This led to a bipartisan House resolution opposing his decision.

Democrats were unanimous, and the two-thirds of the GOP went against him too.

On top of that, Trump announced that next year's G7 would be held at his own Doral resort, which again was met with a stiff-bipartisan rebuke.

And that was all before the damning testimony on Capitol Hill over the Ukraine testimony.
·
That testimony is so damaging that all House Republicans and FOX News sycophants can talk about is the alleged unfairness of the impeachment process.

No one can defend your candidate's actions.

And the process, which has consisted of closed door testimony so far (the source of the GOP complaint, even though it is a standard procedure for gathering information), is just weeks away from going public, Watergate style.

The testimony of the diplomats will be watched by tens of millions, and it will be riveting.
·
What is that deafening silence you hear?

Why that would be GOP Senators, who hold the president's fate in an impeachment trial.

You don't hear too much defending going on there either.

Lindsay Graham introduced a motion to condemn the House impeachment process and struggled to get the GOP Senators on board.

Most of them, when asked to comment on anything related to UkraineGate, simply pass, citing that they are "future jurors."

That actually sounds ominous.
·
You should probably familiarize yourself with a Democratic volunteer organization called "Indivisible."

They, and many other grass roots organization formed in the aftermath of the 2016 elections, consist of incredibly motivated Democrats, mostly women, who want to see Trump go.

Their power was mighty evident in 2018 when the Dems won the House.

Your candidate's strategy in 2016 was to focus on his base and get them to the polls, and darned if he did not pull an inside straight and pull it off.

But he has spent his time in office continuing to offend all sorts of groups in the Democratic coalition, and he has lost the middle, and the outrage is palpable.
You, being a seasoned Republican strategist, would have only one thought as you absorb this disastrous lay of the land:

this is a disaster in the making.

You not only will likely see Trump drubbed out of the office, but conclude the Senate is no longer safe and the Dems' House majority will likely expand.
And you've got 12 months to turn all this around with little to work with.
Fellow Democrats, this little piece was not meant to reassure you into apathy, but rather to catalyze you into action.

Stop despairing over the Democratic field – at least we have choices.

Think of those poor suckers on the other side, who have to ride the Trump train to November, or turn it over to Mike Pence, who does not have one iota of charisma.
The three-step path to victory:
·
Find the best candidate – the one you think has the best chance of beating Trump
·
Support the Democrat who wins the nomination, whether you like that person or not
·
Work like crazy to elect that person
, focusing on those swing states
Believe it:

Trump can be beat, and he will be beat.