Tom with the "SaturData Review," which updates key political indicators and highlights other pertinent info from the week.
This was arguably the quietest week in the Trump presidency, as the post-Weinstein carnage continued into the Thanksgiving break. The most notable event was Trump's all-but-endorsement of Roy Moore, a rather shocking split from the entire national GOP establishment, which has by and large pulled all endorsements and support, and called for Moore to step down. Trump, on the other hand, concluded the GOP Senate margin was too slim to abandon the accused child abuser. This continued Trump's embrace of an issue (he attacked Al Franken) that one would think he should avoid, given his own sordid groping history. He even hinted that he might campaign for Moore as Election Day approaches (December 12).
But if Trump detractors were hoping his embrace of Moore would be the catalyst for a long-awaited material drop in his approval rating, they were disappointed yet again. His approval rating was basically unchanged (actually ticking up a point), and staggered along as usual at the abysmal 40% level, with a "net negative" of -16 percentage points (the difference between his approval and disapproval ratings). We will see if that continues if Trump actually embraces Moore on the campaign trail.
The economic news, though, continued to be solid, with another market uptick and a slight drop in gas prices. Thus the Trumpometer remains +15% versus Trump's Inauguration Day (meaning, on average, five key economic indicators are up 15% versus their level back then, as detailed in the chart below).
| | | | | | |
| --- | --- | --- | --- | --- | --- |
| | | | | | |
| | | | | | |
| | | | | | |
| | | | | | |
| | | | | | |
| | | | | | |
| | | | | | |
| | | | | | |
| | | | | | |
| | | | | | |
| | | | | | |
| | | | | | |
| | | | | | |
As for Moore, there was only one new poll in his Senate race with Democrat Doug Jones, and it showed him clinging to a 2-point lead. However, this was an 8-point move in Jones' direction versus the last poll by this particular pollster, a week ago, so it is clear the momentum is moving to Jones. The average of all the polls since the assault stories broke show Jones up by +2.
As for the Trump presidency, his approval rating since January indicates a slow slide from 48% down to 40%, and it has been steady in the 39%/40% range since July, frustrating both his supporters, looking for a positive catalyst, and his detractors, who cannot believe the unceasing onslaught of bad news (Russia links, North Korea, legislative failures, executive orders overturned by the courts, any number of ludicrous tweets, and now, the embrace of Moore) have not provided a long-awaited further downward push.
The first year drop is not unusual. What is unusual, as you can see by looking at Bush 43's and Obama's approval charts below, is how low Trump's approval rating has been versus his predecessors. Bush 43 essentially mirrored Trump's first-year downward trend, only at a level that was 10 points higher. He began in the near-60% range and dropped to 50% when 9/11 occurred, providing a huge upward surge as the country unified around Bush's inspiring initial "bullhorn" performance.
Bush's presidency was an electrocardiogram, with three major upward spikes for 9/11, the beginning of the Iraq War and the death of Saddam Hussein, punctuating a persistent seven-year long freefall that reasserted itself after the spikes to new depths.
Obama showed the same pattern, only he started in the even loftier near-70% range, twenty points higher than Trump, before sinking to the 50% level in his first 12 months.
Consistent with his "No Drama" demeanor, Obama had the steadiest approval ratings of any President since measurements began, once they fell off the initial high and settled into the 40% to 50% range.
Essentially he enjoyed only three minor upsurges that each pushed him back over 50%:
one a modest bump for the killing of Osama Bin Laden; the next for his reelection; and finally the third, which was a sharp rise in his last year as the unseemly Trump-Clinton race to succeed him unfolded, and Obama shined in comparison to the two least popular candidates of modern times.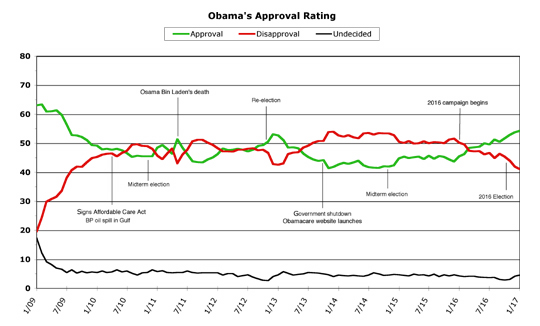 It is worth noting that the Trump Administration, for all of its controversies, has not experienced a true catalyst as yet, a clear win or a unifying disaster. But this much is clear – Trump needs one, because unlike Bush and Obama, he cannot get re-elected at his static level of 40% approval. Those ten- and twenty- point differentials enjoyed by his predecessors at the starts of their presidencies cushioned their falls, kept them at the 50% level at the time they had to face the electorate again. And that made all the difference.