Tom with the BTRTN February Month in Review, completed with updated political numbers, down below.
You have all heard the astonishing Beatles' classic, "A Day in the Life," many of you perhaps a thousand times.

It seems as if every Beatles' song broke new ground, and with that song, the two strange upward orchestral crescendos were the news.

These glissandos (the technical term) – performed by a 40-piece orchestra in the EMI Studios in London, conducted by George Martin and Paul McCartney – go on and up for only 30 seconds each, but they seem far longer – endless, in fact.

And as they build ever higher, the notes become more screechy, the discordance more raucous and yet the clashing instruments continue, until you begin to wonder if they will ever resolve.

And then they do, with the last one crashing into a dramatic single, resounding piano chord that itself extends, ever less audibly, for over 40 seconds.
Donald Trump's presidency at times feels oddly similar, with all the endless, raging, rising cacophony of that piece (though none of the artistry), apparently barreling toward some resolution but not, as yet, giving any sign as to when that might come and in what form.

And until that resolution comes, there is every evidence that the din will escalate beyond human comprehension.
Consider just the last two days in the life of the Trump Administration.

I had scratched out a draft of our BTRTN "Month in Review" on Sunday, always a risk, given that the month was not quite over.

Far from it, in fact, and the events of the past two days, if they did not exactly overwhelm the prior 26 of this month, certainly overshadowed them. Time for a re-write.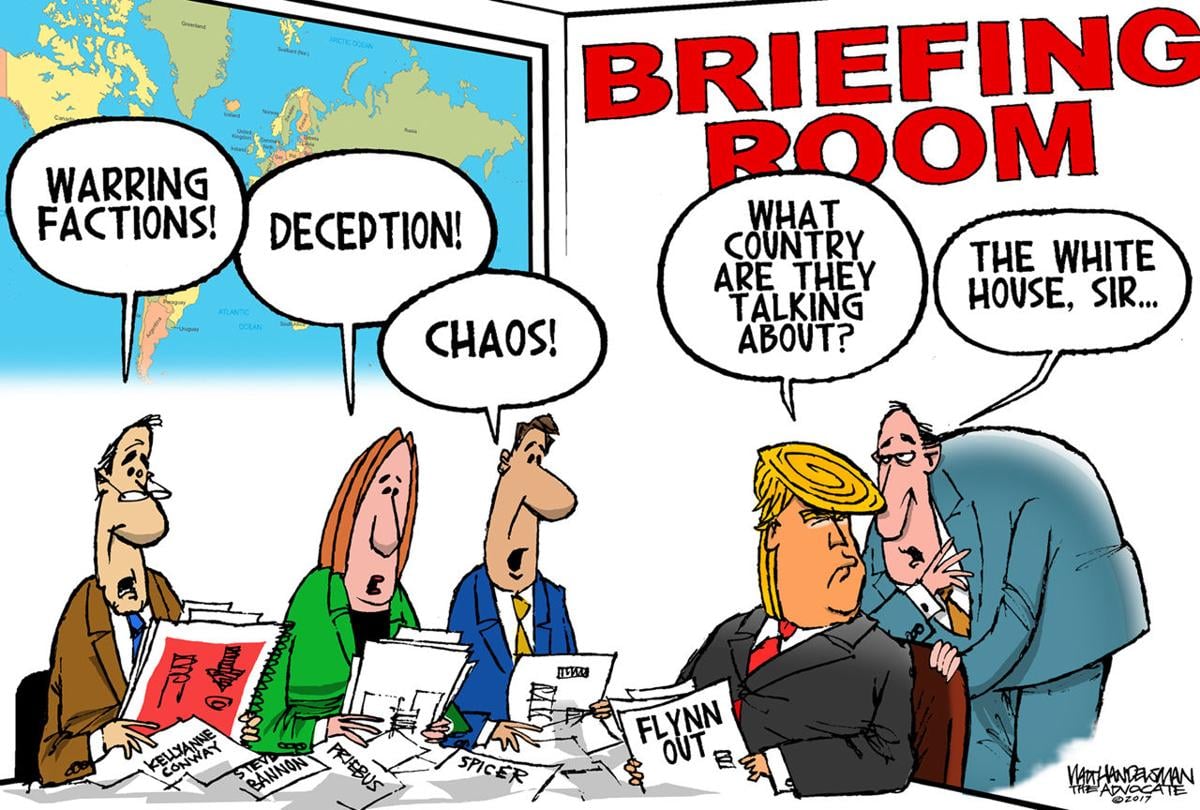 On Monday it was revealed that John Kelly downgraded the security clearance of Jared Kushner, an outgrowth of Kelly's own disastrous handling of the Rob Porter affair, in which Porter's wife-beating history was revealed in the routine FBI investigation required to obtain Porter's security clearance.

This led to the revelation that over 100 administration officials lack the proper security clearance for their positions (at least as of last November), which sent off all sorts of alarm bells – who are these people?

That led to Kelly's crackdown, and Kushner, who was operating on an interim clearance, was the primary target, and a juicy one for Kelly, who has long been at war with "Javanka."
On Monday, Hope Hicks, the White House Communications Director and Trump confidante, testified for eight-plus hours to the House Intelligence Committee, revealing that in her role she told "white lies" on behalf of the President.

Hicks herself was reeling from her involvement in l'affaire Porter – in fact, she was romantically involved with him, and failed to recuse herself from the White House (mis)management of it.
Trump started Tuesday by Twitter-bashing whipping boy Jeff Sessions, calling him "DISGRACEFUL" (caps and emphasis are Trump's) for his handling of a FISA investigation.

Trump proceeded that very afternoon to stun his fellow Republicans by essentially declaring fealty to Barack Obama's gun control proposals in an open meeting involving politicians of all stripes.
Presumably Trump had heard Monday's news that Robert Mueller is wading way deep into Trump's personal finances in his pre-presidential years, crossing the "red line" that Trump declared, last fall, could trigger Mueller's firing.

Of course, who would do that firing is quite the mystery:

Sessions can't, Rosenstein won't, and the number three position at the DOJ is vacant given Solicitor General Rachel Brand's abrupt resignation earlier this month, blowing her chance to reprise Robert Bork's role in Watergate's Saturday Night Massacre and contributing to the talent (such as it is) drain in Trumpworld.
Speaking of resignations, Hicks decided yesterday – the day after her stunning testimony, and two weeks after Porter's departure – that it was a good time for her to resign.

Though Hicks, at age 29, appeared stunningly underqualified for the position of White House Communications Director, she has held it since

August, replacing Anthony Scaramucci (11 days), who replaced Sean Spicer (46 days), who replaced Michael Dubke (86 days) who was named instead of Jason Miller, who took the job then decided against it.

But while perhaps underqualified, her lofty title actually belied Hicks' position within the Trump inner circle, which one source described as more like "one of Trump's limbs."

With apologies to Neil Young, now the White House is even more hopeless, hopeless, hopeless.
And – the Washington Post reported that four nations had discussed ways to manipulate and influence Kushner given the fragility of his real estate empire and apparent willingness to take actions to save it despite his prominence in official Trumpworld.

This is not a good time to be Jared.
The events of the past two days have been so cacophonous that they put the testimony of NSA Chief Admiral Mike Rogers on the inside pages.

Rogers admitted that President Trump has never authorized him to confront the Russian cyber threat to our elections.

How can this not be remarkable news?
The knives are out in the West Wing.

Remarkably, none of these incredible battles in the last 48 hours involved a single Democrat.

Every person mentioned in the prior seven paragraphs is a Republican, with the possible exception, of course, of Javanka.
And only now, on paragraph 13 of our month in review, do we get to the truly consequential events of the first 26 days of the month, which, like so many Trump months, started with something that dominated the news cycle at the time but now seems to have occurred months ago and is long-forgotten.
Could it be that the month started with the then-famous Devon Nunes memo, a sordid piece of selective razzamatazz that Trump actually believed exonerated him once and for all from all potential Russia-related offenses?
Was it really just this past month that immigration reform died yet again, as it had under Bush and Obama?

The month that the Dreamers entered yet another phase of limbo, protected by the courts for now but with no legislative solution to their fate in sight, despite clear bi-partisan and White House support?
Was this the month of Rob Porter's demise, when his two ex-wives revealed that he was the Rocky Marciano of the marital set?

That it became known that Kelly had done – well, nothing in the face of this news, until it became clear, finally, to Kelly, that Porter had to go -- even though it was blindingly obvious to everyone else (save Hope Hicks)?
But most consequential of all, this was the month of the horrific Parkland, Florida shootings.

The outpouring of passionate leadership demonstrated by the survivors has kept gun control in the news and on the negotiating table far longer than predecessor mass killings.

This advocacy may or may not result in any meaningful gun control legislation – don't bet on it -- but it has certainly turned Corporate America, of all institutions, into a progressive engine for action – at least compared to Congress.

And even more consequentially, it has energized young people; they have become the last of the traditional Democratic voting blocs to be outraged by Trump and the GOP, and have propelled themselves into the fray, having found their political cause, their voice, and, just perhaps, their political muscle, which has been more or less dormant since the 1960's.
Trump contributed to the gun control debate with the full spectrum of thoughts, from NRA talking points ("Let's arm the teachers!") to, as mentioned, Obama talking points.

Whatever this is, it is not leadership.

Trump also declared that if he had been at the scene of the shooting, he would have run into the building, even without a weapon, to subdue the killer.

This preposterous claim defies comment.
Meanwhile, the Mueller drumbeat continues, with a consequential month, in which 13 Russians were indicted for conspiring to influence U.S. elections; Rick Gates finally copped a plea, receiving a ridiculously light punishment (like Mike Flynn) in exchange for what surely must be quite a mother lode of dirt on someone above him (Paul Manafort for sure, but perhaps others as well – unlike Manafort, Gates remained in the Trump circle through the Inaugural); the screws tightened further on Manafort with a slew of charges that could keep him in jail long after the earth is essentially ocean, the pressure on him to cop his own plea growing ever more vice-like; and Mueller threw the book at a young lawyer formerly with Skadden Arps for good measure, securing a guilty plea for lying to the FBI about Gates -- the lawyer just happened to be the son-in-law of a Russian oligarch.
I keep waiting for that resolving piano chord and the soothing 40-second fade to black, but it will not be forthcoming soon, not until, perhaps, Robert Mueller has his say.

Until then, at least, we are doomed to ever-higher-screeching, more of that impossibly-non-resolving glissando known as Trumpworld.
(For Beatles' fans: https://www.youtube.com/watch?v=usNsCeOV4GM.)
Trump's approval rating, remarkably, ticked up a point in February, to 43%, as Trump held on to the gains he made that were likely attributable to the tax law "win."

Trump's approval is at his highest level since very early in his Presidency, but this is still a very bad place to be, in the low 40's, -5 points below where he started a year ago.

He has yet to crack the 50% mark, and remains poorly positioned for the mid-terms and for 2020.





The generic ballot remained with the Democrats ahead by +6, a healthy lead for the Democrats as the countdown to November begins.

Using our proprietary BTRTN regression model, this lead would suggest a 43 seat pick-up for the Dems in November (if it held), and even accounting for slippage due to gerrymandering, the Dems remain the slight favorites to retake control of the House.
However, the last week has shown this measure tightening, to +4.

While this is still a healthy lead, it demonstrates that nothing is locked in stone.

The immigration battle did not appear to cost the GOP; now we will see how the gun battle plays out.


The "Trumpometer" remained at +13 in the last month.

The stock market had a wild month, reintroducing the public to the "VIX", a measure of volatility.

When it all shook out the Dow was down 2% for the month, but this was partially offset in the Trumpometer by rising Consumer Confidence and lower gas prices from a month ago.

The second reading of the Q4 GDP was 2.5%, down from Q3 (3.2%).

All in all, Trump took a minor beating with the market correction, but the subsequent recovery has confirmed that strength of his economic story (albeit one that largely marks a continuation of trends underway for years under Obama).

The +13 reading means that, on average, our five economic measures are 13% higher than they were at the time of Trump's Inauguration.
| | | | | | | |
| --- | --- | --- | --- | --- | --- | --- |
| | | | End Obama 1/20/2017 (Base = 0) | | | % Chg. Vs. Inaug. (+ = Better) |
| | | | | | | |
| | | | | | | |
| | | | | | | |
| | | | | | | |
| | | | | | | |
| | | | | | | |
BTRTN calculates our monthly approval ratings using an average of the four pollsters who conduct daily or weekly approval rating polls: Gallup Rasmussen, Reuters/Ipsos and You Gov/Economist. This provides consistent and accurate trending information and does not muddy the waters by including infrequent pollsters.

The outcome tends to mirror the RCP average but, we believe, our method gives more precise trending.
For the generic ballot, we take an average of the only two pollsters who conduct weekly generic ballot polls,

Reuters/Ipsos and You Gov/Economist, again for trending consistency.
The

Trumpometer

aggregates a set of economic indicators and compares the resulting index to that same set of aggregated indicators at the time of the Trump Inaugural on January 20, 2017, on an average percentage change basis.. The basic idea is to demonstrate whether the country is better off economically now versus when Trump took office.

The indicators are the unemployment rate, the Dow-Jones Industrial Average, the Consumer Confidence Index, the price of gasoline, and the GDP.