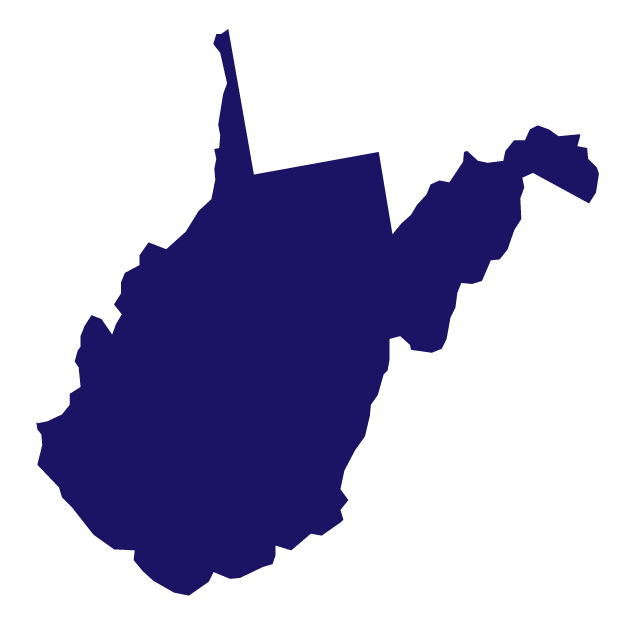 The Democratic race continues as an afterthought, the result of both Hillary Clinton's commanding delegate lead and Donald Trump's mesmerizing real-time rending of the Republican Party. But there is indeed a primary tomorrow, in West Virginia, and we are duty bound to make a prediction. (We will no longer make predictions on the GOP side, although those primaries continue tomorrow as well, in West Virginia as well as in Nebraska.)
West Virginia is a difficult state for Hillary Clinton. She once made the unfortunate observation, while rather clumsily forwarding a clean energy agenda, that if she were President she would "put a lot of coal miners and coal companies out of business." She walked it back, she apologized, but the fact is, like many so-called "gaffes" that politicians of all stripes make, she probably meant it. And coal-driven West Virginia is not about to forgive her. The polls show Bernie Sanders ahead in West Virginia, though somewhat surprisingly by only single digit margins.
BTRTN predicts that Bernie Sanders will win the West Virginia primary by a decent margin.
For Bernie and his fans, the win will follow the familiar pattern: a close win that yields pitifully few net delegates, hardly enough to mount a serious threat to Clinton's enormous delegate lead. Bernie might win, say, 20 delegates in West Virginia to Clinton's 17, a net of +3. That would cut her pledged delegate lead from 290 to 287.
Over this election cycle, BTRTN has occasionally felt the Burn from those who are Feeling the Bern.
We have faced some accusations from Bernie fans that we are biased in favor of Hillary Clinton. In our minds, nothing could be further from the truth – we call 'em as we analyze 'em. For us, our batting average is our ultimate measure of success.
But we ran some numbers on ourselves and do indeed understand where the pain comes from, and we have explanations.
There have been 42 Democratic contests so far that we have predicted (all except Guam), and we have been correct on 35 of them.
That's an 83% batting average, pretty darn good.
Of the seven races we got wrong, Bernie won six when we had predicted the winner would be Hillary.
Here are the explanations for those seven misses:
Michigan and Indiana were primary states where the polling indicated a Clinton win

In Rhode Island, the minimal polling was mixed but we gave the nod to Clinton because of geography; she was favored in the other eastern primary states that day (Pennsylvania, Maryland, Delaware and Connecticut) and won them all as we predicted

Then there were three early caucus states (Colorado, Minnesota and Kansas) where there was little to no polling, and, of course, caucuses are notoriously difficult to project from polling anyway.

Hillary had won the first few caucuses (Iowa and Nevada) and thus was easy to peg as the favorite; once Bernie established his caucus prowess in those three states, our predictions got much better – we picked him to win the last eight caucuses and he did.

And in Illinois, the polling favored Bernie and we called it for him, but Hillary pulled that one out
Overall in the 42 contests (on average) we predicted Hillary would take 55% of the vote and Bernie 45%.
Actually it came in 50% to 48%.
Hillary bias?
No…lack of data.
In the 28
primaries
, where there generally is much more polling, we predicted Hillary overall would win by a
58/42
margin, and it was actually turned out to be
57/42
.
We were, clearly, exceptionally accurate in the primaries; no bias there.
It was the caucuses that hurt us – Bernie did MUCH better than we thought he would – we thought he would win most of them, but his margin has been, on average,

62/37

instead of our predicted

52/48

in the 14 caucuses. But that wasn't bias; that was ignorance on our part! Again, there is little to no polling data in caucus states, and polling does not project well in a caucus environment. But once Bernie got on a caucus roll, there was no stopping him, and we called that.
Bottom line…our story has been the same since Super Tuesday. We predicted then that Hillary had an insurmountable pledged delegate lead over Bernie and the race was effectively over. Because of the Democrat's "proportionate allocation" rule, after Super Tuesday, Bernie had to replicate his 20-point New Hampshire win in large primary states to have a chance, and he has never done that. When he wins, in those small state caucuses and in a very few primaries (7 out of 28), he has only picked up a few net delegates, not nearly enough to come close to overtaking Hillary. We have been saying this since Super Tuesday, and we are still saying it, and it is looking more accurate every day.
And for those of you who still think Bernie has a chance to win the nomination…we still predict otherwise.
Here are all 42 races, judge for yourself!