We are back with our first BTRTN snapshot of the Governors. The headline is the GOP will emerge on Election Day with continued dominance of state houses.
Currently, the GOP has 31 governors, while the Democrats have only 18 (there is one Independent, Bill Walker of Alaska). You might think this dominance reflects all those the western states, right? All those red states out there with 3 electoral votes – that's where many of these Governors are, so it's not so surprising there are so many GOP governors?
Not quite. GOP Governors hold a bunch of those states, sure. But there are 12 states that went for Obama in 2012 that have GOP governors, and they include a number of the so-called "Blue Wall" states, including Maryland (which Obama won by +25), Massachusetts (+23), New Jersey (+17), Illinois (+16), Maine (+15) and Wisconsin (+12). When you look at the governorships, you realize that states are much more schizophrenic that you might have thought, and that fact makes you feel a bit more nervous, if you are a Dem, about the whole concept of a "Blue Wall." Not too many states have a Governor, two Senators and two state legislatures all controlled by one party. Even in New York State, the state assembly is controlled by Republicans. (And the Dems have four governors in states Obama lost – Louisiana, Missouri, Montana and West Virginia.)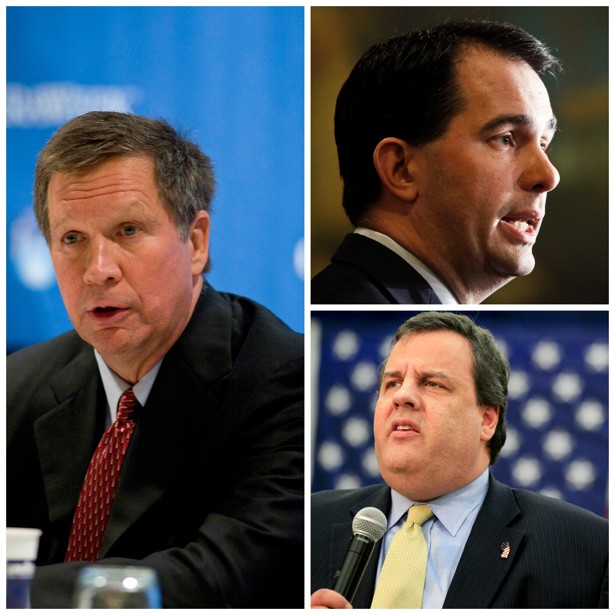 It might sound like a silly question, but why are governor races important when considering national politics? Many reasons, of course, but here are two. First, governors are a fertile pool of potential presidents, and this year alone – just from those blue states I noted above – Chris Christie and Scott Walker were in the presidential campaign. If they had lost their gubernatorial races, as you might have expected given the "blue"-ness of their states, you would never had heard of them. John Kasich is a sitting Governor, and Jeb Bush, Bobby Jindal, Mike Huckabee and Rick Perry are ex-Govs who were in the race. Throw in Mike Pence, rising stars Nikki Haley and Susana Martinez, not to mention Mitt Romney, and you get the idea. Having 31 governors gives the GOP a deeper bench than the Dems.
And, of course, governors work with states legislatures on re-districting; if you control the state house and both houses of the state legislature, you can redistrict as you please. The next census is in 2020, so the votes cast now will have a direct impact on the Dems chances of reversing some of the more notorious gerrymanderings from 2010 that helped the GOP gain control of the House.
So let's look at the 2016 races. There are only 12 of them, but amazingly, despite the overwhelming number of current GOP governors, fully eight of the 12 feature incumbent Dem seats, while only four are GOP seats. So right off, the chances of the Dems picking up any state houses is limited to those four in 2016; the Dems are mostly playing defense.
Here is our snapshot as of now.
So we have five races in the "Solid" column, three for the Dems (Delaware, Oregon and Washington) and two for the GOP (North Dakota and Utah).
Remember those four "pick-up" possibilities for the Dems?
That number is thus down to two.
And, based on our snapshot,
at this point the BTRTN snapshot is that the GOP will pick-up a net of one statehouse in this cycle, and thus up their total to 32 to 17 for the Dems
(and that one Independent).
Let's look at the seven races "in play'.
First, we see three of them in the 'Lean D' category, which includes one pickup:
·
The pick-up is in North Carolina, where the now-fairly-famous GOP incumbent Pat McCrory is in serious danger of losing his job. He became famous in the LGBQT battle of 2015, when the North Carolina legislature passed the most restrictive bathroom access law (HB2) in the country, essentially forcing transgenders to use bathrooms based the gender of their birth rather than how they now self-identify. This law is unpopular even in North Carolina, and McCrory is paying the price. Not only do Bruce Springsteen and the NBA (among many other) want little to do with the state until this law is rescinded or radically revamped, but the voters of North Carolina want to send McCrory packing – only 30% of them support the law and his favorability rating is down to 43%. The polls show Democratic Attorney General Roy Cooper is up by about +8. This is the Dems best flip chance.
·
Montana
's Democratic incumbent Steve Bullock is running again, and while there is no public polling yet, he seems to have a good chance to win reelection versus the GOP nominee, businessman Greg Gianforte. Morning Consult has Bullock ranked as tied for the 11th most popular governor in the country with a 61% rating. This is close to being a Solid…but it is red Montana. So we'll wait for a poll to out this in the Solid camp.
·
Vermont
's Democratic incumbent Peter Shumlin is retiring, leaving this one wide open. Democrat Sue Minter, a government official (Agency of Transportation) and Republican Lt. Governor Phil Scott won their primaries to face-off in November. There is no polling in place but given Shumlin's 55% approval rating, the nod here is to the Democrats.
There is one Leaner for the GOP, and that one is a potential flip:
·
Missour
i's Democratic incumbent Jay Nixon came into the national spotlight for his rocky handling of the Ferguson crisis, and that damaged a promising career. He is retiring in 2016 due to term limits, and Democratic Attorney General Chris Koster will face businessman and former Navy SEAL Eric Greitens to succeed him. Polling has Greitens up by +8, and so this flip from blue to red could cancel out the Dem's potential pick-up in North Carolina.
There are three toss-ups that are very difficult to call, but we have two leaning to the GOP and one to the Dems:
·
You can thank Donald Trump for taking GOP incumbent Mike Pence out of a re-election campaign in in Indiana. Pence was no lock, with only a 48% approval rating, but now the race is wide open. GOP Lt. Governor Eric Holcomb replaced Pence on the ticket (Pence had already won the primary when he was tapped by Trump), and he will face Democratic former State House Speaker John Gregg in November, who lost to Pence in 2012 by only 3 points. An August poll has Holcomb up by a point, so this one is truly up for grabs.
·
West Virginia
's Democratic incumbent Earl Ray Tomblin is retiring due to term limits. Democrat Jim Justice, a businessman, beat two politicians in the primary and he will face the state Senate President Republican Bill Cole in November. There are no polls here, but we put it in the GOP column, in part because Hillary Clinton is exceptionally unpopular in this state, and that could hurt the Dems down the ticket. If Cole won, that would be the other GOP flip.
·
New Hampshire
is the other toss-up, and we know less about this race than any other. Democratic incumbent Maggie Hassan is running for the U.S. Senate, and is a big hope in the Dems thrust to regain control of that body. Both sides have multiple candidates running in the September 13 primary so it is hard to speculate right now. I put this in the Dem column largely because of Hassan's 56% approval rating, but of course so much is unknown here.
So there you have it…

the Dems have a great chance to keep the White House, a pretty good chance to take back the Senate, a slim chance to take back the House, and no chance at all to make headway in state houses.
Here are all the Governor races in BTRTN's chart form.