The prospective nominee was controversial, having spent decades in the public eye, the object of fascination for many, a national celebrity well beyond politics. Everything about the nominee's path to the top of the ticket was unusual, a trail strewn with shadows and secrets as well as an all-too-public record on plenty of film. The nominee's private life was frequent tabloid fodder, and the nominee's business dealings always seemed to carry a whiff of impropriety. Disclosure on any topic was rarely prompt. Even the nominee's hair was a subject of endless dissection and lampooning. In short, everyone knew the nominee and had an opinion, and very few opinions were mixed. And everyone knew that with this nominee, further revelations were almost certain.
And the Republican Party was ready for this moment. The files of "oppo" research were the thickest on record, ready to be turned into ruthless sound bites when the time came. The GOP surrogates would come out swinging as never before. The annihilation of the nominee was the goal, and the brutal nature of these attacks would echo and exceed those leveled against Michael ('Willie Horton") Dukakis in 1988, John ("Swift Boat") Kerry in 2004 and Barack ("Hussein") Obama in 2008 and 2012.
The only difference was that when the GOP started attacking in 2016, their target was their own prospective nominee: Donald Trump.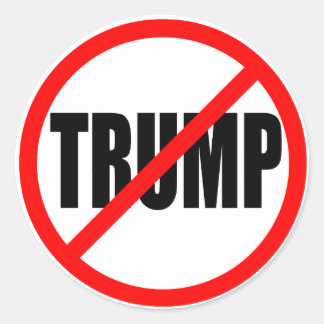 Yes, it might be too little and too late, but the GOP has declared open warfare on Trump, and the leaders of the assault are the very people that Trump has already roundly mocked, "Loser" Mitt Romney, "Cowardly" John McCain and "Little" Marco Rubio. Faced with a fateful, no-win decision to embrace Trump or try to destroy him, the GOP Establishment, after dabbling with the former, has chosen the latter. Not since 1912 has there been such an open revolt against a nominee, when former President Theodore Roosevelt decided he wanted his old job back, and made a third-party San Juan Hill-esque charge against his own successor, William Howard Taft. (It failed and left the door wide open for Democrat Woodrow Wilson to easily defeat the fractured opposition.)
Can Trump possibly be derailed? The GOP is on Plan D at this point. Let's review.
Plan A was really no plan at all, merely watch as Trump inevitably either self-destructed or wore out his welcome. Month after month, Trump would maintain his #1 standing with a never-changing 40% of the GOP electorate, yet Plan A went on for all of 2015, and through Iowa, New Hampshire, South Carolina and Nevada.
Plan B was to unleash Marco Rubio, just last week, as he became the first candidate besides Jeb Bush to go on a frontal assault of Trump in the week before Super Tuesday. Unlike the awkward, ineffectual Bush, the brash and verbally-blessed Rubio, the theory went, would have the chops to take down the demagogue and inflict enough damage to turn Super Tuesday into Trump's Waterloo. But Plan B died as Trump parried and thrusted and blustered his way past Rubio's attacks and won seven states.
Plan C would be to reduce the field to a one-on-one match by somehow inducing Ted Cruz, John Kasich and Ben Carson to get out right after Super Tuesday, to give Rubio a free shot at overcoming Trump's delegate lead by winning outright many of the March 15 and beyond "winner take all" primaries. This dream also died on Super Tuesday with Rubio's poor showing, when Cruz was able to win three states to Rubio's one, and thus build up a lead of over 100 delegates over Rubio for second place. Only Carson dropped out, and the split field remained.
And so a new plan has emerged. Plan D has a new goal, not to beat Trump per se, but to deny him the required delegates to lock up the nomination before the convention, and then throw the convention into the smoke-filled room of 100 years ago to crown a White Knight, say Romney or perhaps Paul Ryan. The new theory is the keep the field intact, and encourage anti-Trump voters to vote for anyone but Trump – Kasich in Ohio, say, Rubio in Florida, maximizing delegate denial by getting behind the candidate state-by-state who has the best chance of beating him. Yes, the GOP has been reduced to gaming the very system they created in 2016 – overcoming the changes they made that had the specific, purposeful intent of allowing the Super Tuesday winner to be quickly anointed, exploiting their momentum with nothing but winner-take-all primaries thereafter. And crucial to Plan D was an orchestrated attack by the party elders, the past two GOP nominees, Romney and McCain.
What a mess! The GOP is imploding, but not along the Tea Party/Establishment fissure that has been simmering for half a decade, but rather in a bizarre form: the GOP against its own rank and file, who time and again prefer Trump to the more traditional candidates, be they Tea Party darlings like Cruz (or Huckabee), more moderate grown-ups like Kasich (or Bush), bright shiny new charismatics like Rubio (or Christie), or more respectable outsiders like Carson (or Fiorina). The GOP voters want Trump, and the GOP is turning against its own voters. It is incredible.
Why is the GOP doing this? The GOP has painstakingly won back the House in 2010 and the Senate, in 2012, and they know, from their own post-mortem (the so-called "Autopsy") of 2012, that the key to completing the trifecta and winning back the Presidency is to win back some respectable percentage of Hispanic votes. George W. Bush managed 40% of the Hispanic vote in 2000, but that figure slipped to 25% for Mitt Romney. Given the growth of the Hispanic community, improving on that 25% figure would be essential for the White House to return to the GOP. It's all about the math. You can't win 70% of the Caucasian vote to offset losing 75% of the Hispanic vote (given the historically huge edge the Dems have among African-Americans as well as the modest edge among the small but growing Asian-American community).
So what happened? Donald Trump comes out of nowhere, betting his candidacy on screaming about Mexicans crossing the border, building a giant wall to keep more from coming, and abruptly ejecting the 11 million undocumented aliens residing in America. It was an astonishing bulls-eye into the heart of the GOP's recovery plan. Immigration reform? Hell no, Trump was doubling down on immigration. And the GOP rank-and-file loved it!
And that not only puts the Presidency out of reach, but it threatens the GOP's hold not only on the Senate but the House as well. Certain vulnerable GOP candidates up for reelection may have to publicly break from Trump and disavow him, to try to keep their seats. And good Democratic challengers like Lieutenant Governor Patty Judge in Iowa, who would otherwise have sat it out, are now set to challenge supposedly safe GOP stalwarts like Chuck Grassley (who already finds himself under assault as head of the Senate Judiciary Committee – yes, he's the guy who is insisting there will be no hearing for President Obama's Supreme Court nominee). The GOP is terrified of a Trump candidacy for the huge setback it could inflict, for years.
This weekend, on March 5 and 6, there are nine races across the two parties, and the five GOP races represent the first test of whether the incredible assaults by Romney, McCain and Rubio (plus the unbelievable mayhem of Thursday night's debate) have affected Trump's standing in any way and opened up the potential for Plan D. Here is how we see it.
The standard prediction caveats are worth noting. Most of these elections are caucuses. Polling is thus slender: Louisiana has had only two recent polls; Kansas and Kentucky one each, and the rest have had no polls at all. And the polls that exist all preceded not only the full-out War on Trump, but also Super Tuesday itself. So it's a tough call.
But in spite of all this madness, we see more of them same. BTRTN predicts that Donald Trump will win the Louisiana and Kentucky primaries, the Kansas caucus and Puerto Rico primary, while Marco Rubio will take the Maine caucus.
Oh yes, there is still a Democratic race as well, four contests this weekend. BTRTN predicts that Hillary Clinton will win handily in the Louisiana primary, far more narrowly in Kansas, while Bernie Sanders will take Nebraska and Maine.
None of these races on either side are winner-take-all, so they will have little or no effect on the various gaps and rank orders in delegate counts. In fact, even if we are off in our predictions, it does not matter too much from a delegate perspective.
The net effect of the GOP outcomes, should they occur, might possibly destroy Plan D before it begins, giving Trump momentum into the crucial March 8 primaries. In theory it may take time for sustained attacks to sink in, but they sure received a great deal of play.
The Clinton wins would keep her on her path to inevitable nomination. Here are the numbers: